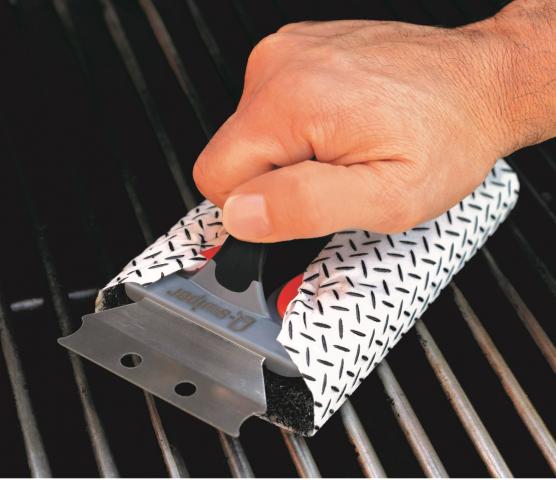 - May 25, 2021 /PressCable/ —
People who love to grill and cook for their family and are looking for the best way to clean their BBQ Grill Grates without the dangers of steel wire bristles can now take advantage of the innovative Q-Swiper BBQ Grill Cleaner from the Proud Grill Company. The Proud Grill Company has implemented a new grill cleaning wipe system in its Q-Swiper BBQ Grill Cleaner to benefit backyard grillers who want to remove the risk of family and friends ingesting wire steel bristles from a wire grill brush.
Specifically, the Q-Swiper delivers a new safe and better way to clean grill grates that uses moist, tough BBQ Grill Cleaning wipes instead of the traditional steel wire grill brush. These wire grill brushes can be dangerous because the wire bristles can be dislodged from a traditional wire grill brush, get stuck to the grill grate and then ingested which usually requires a trip to the hospital. The Q-Swiper removes this risk in addition to effectively removing grill grease and grime – making it one of the best grill cleaners on the market.
Backyard grillers looking on how to clean grill grates without bristles and the dangers they pose when ingested, please visit the website at https://proudgrill.com/ for full details on how the Q-Swiper delivers as a new safe grill cleaner alternative. The innovative Q-Swiper combines a grill brush and tough moist grill cleaning wipes that can be replaced after each cleaning.
Proud Grill Company is excited to unveil the Q-Swiper BBQ Grill Cleaner as it's specifically designed to meet the needs of Backyard Grillers. The Q-Swiper is safe to use on all grill grate surfaces and is a safe grill cleaner to use, the wipes are moistened with recognized food contact safe ingredients and natural cleaning agents derived from corn and coconuts.
On this subject, Paul Cira, Founder at Proud Grill Company said: "We think the Q-Swiper is the best grill cleaner because it removes the potential risk of ingesting steel wire bristles and the Q-Swiper moist grill cleaning wipes swipe away grease and grime for a clean grill every time you barbecue. Not only is the Q-Swiper bristle-free but you are not reusing a dirty grill brush, filthy pad or greasy scraper over and over again."
Proud Grill Company has made a point of listening to its customers and taking feedback wherever possible. They do this because Grillers have become increasingly aware of this wire bristle issue and are looking for the best grill cleaner to remove this risk.
Having been in business now for 3 years, the Proud Grill Company strives to providing innovative Grill Cleaners and BBQ Grill Accessories to make the backyard grilling experience better. This dedication has made them known among customers as an innovative company for grilling products that deliver unique features and benefits. To learn more about Proud Grill Company and their innovative grill accessories visit https://proudgrill.com/
Interested grillers who would like to experience how to clean grill grates without the dangers of steel wire bristles with the Q-Swiper BBQ Grill Cleaner can purchase the Q-Swiper at Lowe's, Ace Hardware and Amazon to get started.
Release ID: 89019105