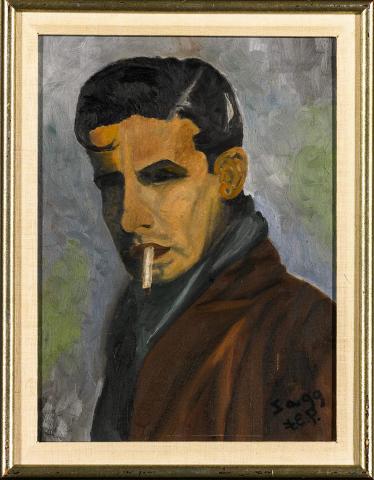 - October 22, 2021 /PressCable/ —
The Beat Goes On Exhibition will run from November 10th through December 4th, 2021 at the John Natsoulas Gallery in Davis, CA.
On November 13th from 6:30 to 10pm, there will be an opening night with live jazz and poetry, featuring performances by Dr. Andy Jones, John Natsoulas, and Tony Passarel. The Linda Bair Dance Company will perform the original dance "Jack Kerouac".
This exhibition is a unique opportunity to see the best poets of the Beat generation's artwork in-person. Paintings, illustrations, self-portraiture, and portraits of Beat contemporaries will be on display by Jack Kerouac, Gregory Corso, Allen Ginsberg, Lawrence Ferlinghetti, Robert LaVigne, Mohammed Mrabet, Paul Bowles, Harold Norse, Carolyn Cassady, Brion Gysin, Lew Welch, Kenneth Patchen, William S. Burroughs, and Michael McClure. Joe Lee and John Natsoulas curated this incredible exhibition to show the incredible diversity of poetry, artwork, and ephemera of the Beat poets and painters. Don't miss this once in a lifetime opportunity to see never-before-seen artwork from a private collection.
Like all labels that stick, the nickname "Beat" richly and succinctly characterizes major aspects of its so-called movement, which sprang from the ecstatic and tortured rhythms of visionary poets, painters, and musicians. Tellingly, informatively, paradoxically, meanings of "beat" extend from a resolute self-affirming strike and an appointed path to their dark opposite-dissipated and hopelessly exhausted resolution or morale. "Beats" can also mean a dissonant battering set up by discordant patterns.
The John Natsoulas Gallery has a rich history and strong ties with artists from the Beat Generation and has exhibited work by Miriam Hoffman, Wally Hedrick, Hassel Smith, Seymour Locks, Manuel Neri, José Ramon Lerma, Ralph Du Casse, Charles Strong, Roy De Forest, Clayton Pinkerton, George Herms, Betty Bishop, and David Park. More specific exhibitions on the 1950's include those of individual galleries such as the King Ubu Gallery, Six Gallery, Spatsa Gallery, Batman Gallery, and the 2005 exhibition on the Merry-Go-Round Show. All of these installments are important educational contributions to the history of the Beat Generation artists in the San Francisco area.
"Artists to my mind are the real architects of change, and not the politicallegislators who implement change after the fact. "
William S. Burroughs
For more information, take a look at our website https://www.natsoulas.com/uncategorized/the-beat-goes-on-beat-generation-exhibition/
Release ID: 89050058