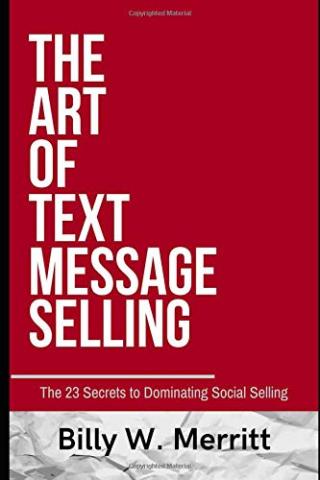 - February 14, 2019 /NewsNetwork/ —
DOUGLAS, Ga. — A new book, "The Art of Text Message Selling" published by Billy W. Merritt, founder of Unlimited Marketing Solutions LLC, has garnered national attention from automotive retailers across the United States, who are searching for better ways of communicating with people who have powerful smartphones at their fingertips.
Merritt, 44, has been around sales his entire life. His father, who sold roofing and construction jobs by going door to door, took his young son along with him on many occasions. A just 16, began selling roofing and construction jobs too, as well as trading horses and coon hounds. His entrepreneurial spirit grew and at 21 years old he had a thriving hand car wash and detail shop that serviced all the local car dealers in his hometown of Douglas, Ga. He found a love for automotive retail and took jobs at several dealerships, where ascended through the ranks of finance manager, used car manager, new car manager, sales manager, eventually general manager, and later, an owner.
Merritt's company, Unlimited Marketing Solutions LLC, provides event marketing to dealerships using his lucrative Text Message Marketing techniques. In recent months, as word has spread of his success he's hosted seven or eight events a week, using his centralized business development team as well as using a dealer's business development and sales teams.
"We serve car dealers who want to move a lot of metal without the gimmicks and gift gobblers," Merritt said. "We do one thing and one thing only — Text Message Selling through Facebook Marketing using "The Art of Text Message Selling."
The book, can be purchased on Amazon, either in Kindle format or Paperback, for a nominal fee. The book details the powerful tool text communication has become, and the influence social media has in reaching thousands of consumers who are interested in the products and services retailers provide.
"We are currently going through the biggest revolution in the sales force, since the Internet itself became an integral part of our lives," Merritt states in his book. "Text Message Selling is vital to survival in sales. Learning the Art of Text Message Selling will make you the most valuable player on the team and secure your financial future for the rest of your life."
Though his expertise is in automotive sales, Merritt said the lessons outlined in the book work regardless if you are selling cars, furniture, real estate or books.
"You have to go where the people are," Merritt said. "That, we've always known, but now in the digital age, people are connected wherever they are with their smartphones. The skill you must have today is knowing how to engage them, when to communicate with them, and finally, and most importantly, get them to come and meet you and experience the products or services you provide."
Merritt decided to write the book after employing the techniques he honed while a partner at a used car dealership in Georgia. The dealership had nearly no online web presence, no digital advertisement strategy, and did not employ any text communication with prospects at all. After one year of using these proven techniques, the dealership got about 500 Website inquiries, 325 credit applications, 5,900 inbound text inquiries, and 11,400 outbound text messages each month. In those 12 months, the dealership doubled its sales output and was on pace to double it again in the next six months.
"I told myself, I should write a book," laughed Merritt, who had no prior experience as a professional author. "The more I thought about, the more I realized I had powerful, useful information that dealers and sales people could use to make better lives for themselves and their families. So I focused, and the result was 'The Art of Text Message Selling.'"
The 23-chapter book covers numerous topics in detail such as: Presenting The Big Offer; Sending Photos and Video; Using Positive Language; Sell the Appointment; Be Patiently Persistent; and Asking for Referrals.
"It's a far different world for the sales professional than it was just several years ago," Merritt stressed. "This small investment of money and time can help you boost your income 100, 200, 300 percent or more in just a matter of months."
For more information on Billy Merritt visit his Facebook Page. To contact him, send him a text via Facebook Messenger.
Contact:
Billy W. Merritt
Release ID: 482325