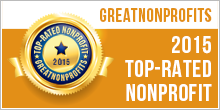 - November 5, 2015 /PressCable/ —
The American Cancer Federation announced today that for the second consecutive year it has been honored with the prestigious Top-Rated Nonprofit Award by GreatNonprofits, the leading provider of user reviews about nonprofit organizations.
The American Cancer Federation was named winner of the Top-Rated 2015 Nonprofit Award by beating out many other nonproifts to take home top honors. Details about the award can be found on their website at www.AmCancer.org.
"We are excited to be named a Top-Rated Nonprofit again for 2015," says Steve Goldsmith, Executive Director of the American Cancer Federation. "We are proud of our accomplishments this year, including 96% of all cancer donations going directly to Cancer Research. This ultra-low overhead model is new in the nonprofit world and we are honored to lead the way in curing cancer."
"Savvy donors want to see the impact of their donations more than ever," said Perla Ni, CEO of GreatNonprofits, "People with direct experience with the American Cancer Federation have voted that the organization is making a real difference."
The Top-Rated Nonprofit award was based on the large number of positive reviews that the American Cancer Federation received. People posted their personal experience with the nonprofit. For example, one donor wrote, "I have been in the nonprofit sector for a long time and involved with many organizations. I am glad I found the American Cancer Federation to donate to. It often seems that nonprofits in this realm can get bloated with high overhead. I love what these guys are doing. I will donate again."
Mr. Goldsmith stated that "The American Cancer Federation exists to Cure Cancer in our Lifetime through donations to effective Cancer Research. Each donation made to cancer research organizations through the Federation is carefully scrutinized for its efficiency and our own organization has virtually zero overhead. Every dollar donated to American Cancer Federation goes directly to Cancer Research. We are an all-volunteer army of 21st Century thinkers and entrepreneurs, changing the way nonprofits do business."
Being on the Top-Rated list gives donors and volunteers more confidence that this is a credible organization. The reviews by volunteers, clients and other donors show the on-the-ground results of this nonprofit. This award is a form of recognition by the cancer community.
Persons interested in learning more about the American Cancer Federation and the award can visit the website at www.amcancer.org.
Release ID: 95936