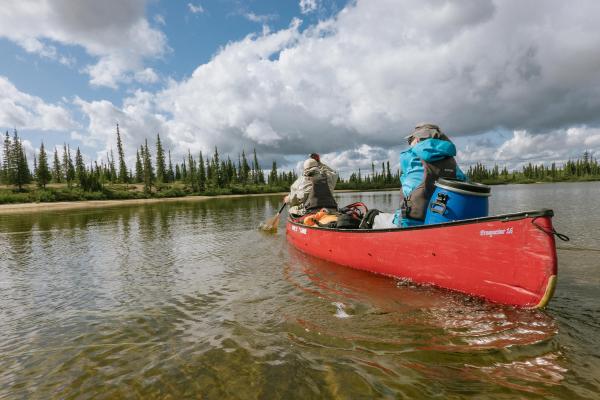 - May 26, 2021 /PressCable/ —
Jackpine Paddle has published a new blog about their inaugural guided canoe trip in Thaidene Nene National Park. Thaidene Nene means the "Land of our Ancestors" to the local Chipewyan Dene. As Canada's newest national park, it is a place with a fabled past highlighted by unique archeological sites. Thaidene Nene guards 27,000 square kilometres of spectacular and pristine waterways, forests and Canadian Shield. For adventure enthusiasts seeking to learn more about this true wilderness experience, the full online article can be found at https://jackpinepaddle.com/canoe-trip-in-thaidene-nene-national-park/
A major attraction in Thaidene Nene National Park is the rare arctic wildlife. Muskox populations have been making a strong rebound in recent years. Visitors are amazed by close encounters with this shaggy, prehistoric beasts. At the peak of the fall rut when this guided canoe trip takes place, their deep guttural roars thunder across the tundra.
The Canadian North – is home to some of the last great wilderness areas left on earth. Not only is canoeing quintessential to the Canadian national identity, a paddling trip is the best way to explore Canada's North. On a guided canoe trip lasting 12 days, it's virtually guaranteed that visitors won't see any other human, or traces of humanity, for the entire trip. The exception to this are arrowheads, spear trips and hide scrapers left on the top of exposed eskers from ancient caribou hunters.
According to Jackpine Paddle guide Dan Wong, "Our guided canoe trip in Thaidene Nene National Park is a once-in-lifetime opportunity to spot muskoxen and northern lights in the same day. How much more northern can you get?"
The blog highlights the landscape of Thaidene Nene National Park. Near the end of the canoe trip, readers explore a breathtakingly beautiful area of small interconnected lakes, sandy eskers and big tundra hills. White sand beaches line these aqua-marine lakes and old-growth spruce trees create an open, park-like setting. Evening hikes and side excursions are easy and rewarding. This canoe trip is as much about the land as it is the water.
Finally, adventurers can read about the decent fishing found almost everywhere on this canoe trip. There is a secret spot where Arctic Grayling and Lake Trout can be caught on (almost) every cast.
Anyone seeking additional information about experiencing Thaidene Nene National Park for themselves can reach Jackpine Paddle via their website at https://jackpinepaddle.com/
Release ID: 89019075