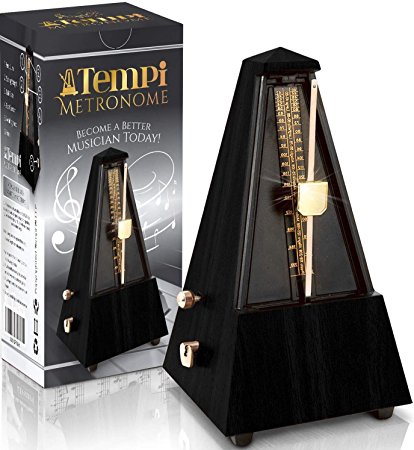 - October 25, 2017 /PressCable/ —
Rhythmic speed and accuracy is crucial element to becoming an excellent musician. The path to this skill comes from a small and sometimes overlooked musical accessory, the metronome. Years of study will improve skill and accuracy, but only with proper practice and excellent teachers to guide the way. The Tempi Metronome for Musicians can be a home "teacher" that keeps every student in time with the music.
https://www.amazon.com/Tempi-Metronome-for-Musicians-Black/dp/B06XJ45FJB
No batteries required, just a quick wind up that will last for 20 minutes of use. It's so simple, a child can easily operate it by themselves and get started on their practice without parental supervision. Give the child a digital metronome on a tablet or phone, and imagine what happens next. The temptation may be too great to try that new game or text a friend. The Tempi Metronome for Musicians is simple and easy to use, without distractions or complications. This is what is needed during practice time. In this age of easy distraction, sometimes the simplest is also the best remedy for the situation. Practice time should be a time to focus on the task at hand and leave the cares of the world behind, for just awhile.
Set the marker to the desired tempo, between 40-208 beats per minute, let go, and the pendulum will start its "tock, tock" in a strict regular rhythm. A beat bell is also available on the side. Pull the lever to 0/2/3/4/6 and the time signature can be chosen to aid the practice. The bell will chime on the downbeat of each measure. This is a feature that was not available on previous mechanical metronome models.
Simple, easy to use, and with a two year guarantee, the Tempi Metronome for Musicians is the best choice for musicians today to aid their practicing. The elegant, classic design will add a lovely touch to any practice room.
For more information go to https://www.amazon.com/Tempi-Metronome-for-Musicians-Black/dp/B06XJ45FJB
Release ID: 253263