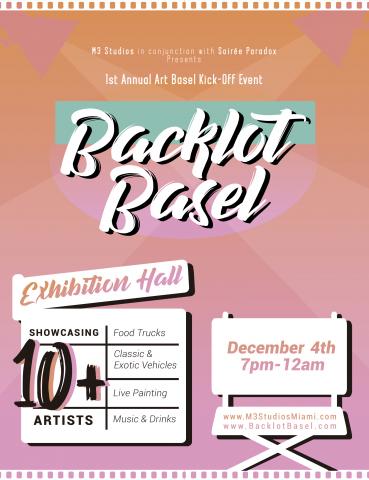 - November 29, 2018 /PressCable/ —
Lovers of art, film and the creative arts M3 Studios the largest independent film studio in South Florida opens its doors to the general public for a one-day event, the first annual Art Basel kick-off event done the M3 way.
"Backlot Basel" – bringing together various disciplines of creative arts in a unique festival setting, in a real working film studio.
M3 Studios the largest production studio in Miami plays host to visual artist, muralist, sculptures, live art installations, television and film prop masters, photographers, and digital video art projections. Come to enjoy Dj's, live music, food trucks, and a full-service bar.
"Backlot Basel" is scheduled for Tuesday, December 4th, 2018 from 7pm-12am. RSVP to attend by visiting www.BacklotBasel.com
M3 Studios, Online Impact 360 & Soiree Paradox is sponsoring this year's event, which will feature:
Unveiling The Largest Mural By One Solo Artist – Ariel Cruz
Film Stage Is Transformed Into A Gallery Exhibition
Showcasing The Work Of 12 Visual Artist
Dj's Playing – Chillwave, Deep House, Light Hip-Hop
Live Painting
Food Trucks & Vendors
Classic and Exotic Vehicles
Complimentary drinks from 7pm-9pm
Free parking
Artist Exhibiting include:
Ariel Cruz
Lisa Camero
King Redd
Yoglxtch
Monroy Art
DreVinciWRKS
Romulo Avendano
Ivan Roque
Silvia Parra
Ken Rodriguez
Diana Dorozhkina
To RSVP or for full details about what to expect at this year's event. Interested parties can visit the website: www.BacklotBasel.com
When asked about the reasons behind creating this event, the host of the event, Henry Cedeno said:
"I've been working with M3 Studios for years, it amazes me the talent and film projects that comes through the facility. From up and coming artist to world renowned Grammy award winning artist. From reality tv shows to big commercials. It's only fitting that a facility that is known for producing creative content also gets involved in Art Basel, but staying true to its roots of being a Television & Film Studio. So you can expect plenty of art but also things you never get to see anywhere else.
The fact that the general public never gets to set foot in the facility makes this event unique as it will give people the opportunity to see the inside of a real working film studio as well as some interesting film props and sets."
When asked about her thoughts behind exhibiting at "Backlot Basel", Lisa Camero an emerging artist said:
"Tons of creative talent have been at M3 Studio, to be surrounded by such creative energy is incredible. The fact that M3 Studios would open their doors like this is amazing. Not everyone gets a chance to set foot in a real film studio, the whole concept of the event is amazing. I hope to be a part of it every year"
##
About M3 Studios: M3 Studios is the largest multimedia television and film production studio facility in South Florida, with 7 film studios, 3 CYC walls, green screen studio, 6 editing bays, and over 122,000 sq. ft. of production studio space, and 60,000 sq. ft. of "flexible office space"
About Online Impact 360: Online Impact 360 is an online marketing agency strategically focused on 3 main components; web design, search engine optimization, online advertising campaigns. The agency has carefully crafted a suite of online marketing services that builds a strong foundation for your business online. Online Impact 360 know's the internet and understands digital marketing is often misunderstood. Which is why you must hire a digital agency with proven results to help you achieve your online marketing goals.
About Soirée Paradox: Soirée Paradox is an event management and event production company.
Release ID: 452087