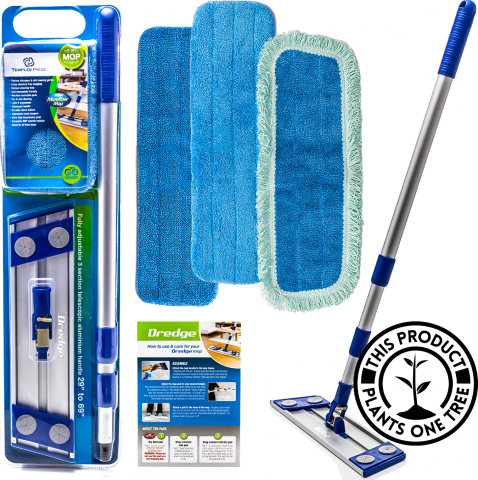 - December 31, 2020 /PressCable/ —
The creator of the Dredge microfiber flat mop, Temples Pride, has revealed some floor cleaning myths that will potentially save many from damaging their floors due to incorrect information. The following are four of the most common myths they say should be avoided in regards to cleaning the floor. Mopping laminate with washing-up liquid. Using vinegar on hardwood and stone. Using fabric softeners to give some shine. Spraying the floor with glass cleaners to avoid streaks.
Using washing-up liquid on a laminate floor is not going to do any good. The washing-up liquid contains corrosive ingredients that will damage the surface of the floor which will end up as horrible discolorations.
Although vinegar has been used to clean almost everything in the past, that does not mean that it can nor should continue to. Modern-day flooring is much different than it was before, it requires much more specialized cleaning. Vinegar will damage wood floors as well as any type of stone floor.
It is a fact that using fabric softeners while mopping gives a good shine, but, at a price. Fabric softener penetrates deep into the wood and clogs the pores making it very hard to ever get out. This will cause discoloration which can not be removed.
Using glass cleaners to avoid streaks is not a good idea since most glass cleaners contain spirits which is what allows for the streak-free appearance. These spirits will eat away at the surface of your wood and laminate floors.
"It's so important that you follow your floor manufacturer's recommended cleaning advice," says Brian from Temples Pride, "Alway's check with them first if you are not sure because putting something on your floor that seems fine to you might cause you to inadvertently void your warranty. I think the most common mistake I still see a lot of people making is using vinegar on their hardwood floors. It may look good in the short run but, after a while, it will produce a very dingy and dull appearance."
Temples Pride was founded in 2015 with a mission to provide an environmentally friendly & effective microfiber floor mopping system. To further support their mission, they are dedicated to reducing their environmental impact by helping to protect critical forest habitat. For every mop that they sell, they plant 1 tree.
More information about Temples Pride and the Dredge microfiber mop is available on their website.
https://www.amazon.com/Professional-Microfiber-Resistant-revolutionize-Experience/dp/B01AZLM64G
Release ID: 88991277