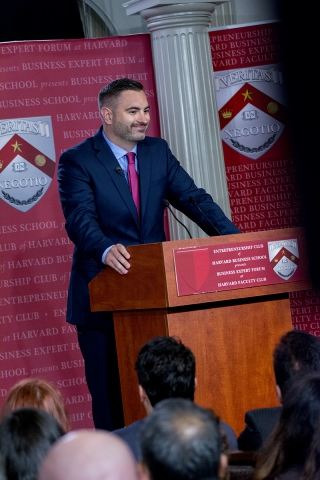 - September 27, 2017 /PressCable/ —
San Diego, California-based Adam Davies, marketing and sales expert, inventor of the Telephone Sales Business and co-founder of "Coaching With You", a leading business coaching firm, has released the details of his Harvard Business School Business Expert Forum speech. The speech which discusses Davies' 3-step system to growing an Inc. 5000 coaching business, stems from Davies' earlier experience as a boiler room sales person cold-calling more than 200 people a day.
More information is available at http://adamdaviesonline.com and https://www.youtube.com/watch?v=vkSp-FnMwNI
Speaking at the Harvard Faculty Club, the host introduces Adam Davies as a featured speaker who has appeared on ABC, NBC, CBS and Fox TV stations more than 200 times. Davies helped drive a coaching business onto the Inc. 5000 fast growing business list, not once, but twice. Davies is also the genius who created one of the best telephone lead generators online.
In his speech, Davies talks about his work-life experience, firstly as a bouncer, then as a cold-call sales person. Drawing on his working life, Davies asks the crowd if they loathe cold-calling and as many people raise their hands, Davies goes on to say that his cold-calling experiences has inspired him to develop his TeleFunnel system, a 3-step process to generating sales without cold-calling.
Disclosing that the three part system includes having a high ticket offer, a TeleFunnel and paid advertising such as Facebook Ads, Davies discloses that just selling services for an hourly rate is not enough. Instead, Davies recommends turning an hourly rate product into a complete program that's marketable. For instance, a coach who sells coaching services for an hourly rate can turn their craft into highly marketable coaching programs worth thousands. This coach then uses a TeleFunnel which takes online leads from Facebook and turns them into offline leads that are invited to discuss the product further. Lastly, the coach uses Davies' magic telephone script to close the deal in just one phone call.
Adam Davies, who left school at 18-years of age, says that almost anyone can build a profitable business with the right insight. Davies' break came when his father gave him a book by Dan Kennedy on direct response marketing. This book motivated Davies to learn more about sales and marketing and to establish a consulting and coaching business.
When asked about the services offered by Adam Davies, one client said, "Adam Davies changed my life, before working with him I was barely making $10,000 per month. Adam has helped me grow my business to over $160,000 per month. For that, I can't thank him enough."
To find out more about visit http://telefunnels.com visit the link above or visit https://www.youtube.com/watch?v=vkSp-FnMwNI
Release ID: 243330