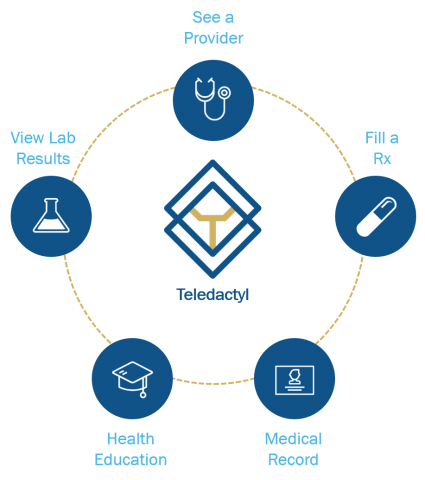 - May 31, 2019 /PressCable/ —
West Palm Beach, FL, May 30, 2019 – Teledactyl and One Med Chart announced today an agreement to build the first healthcare ecosystem on a blockchain platform targeting self-insured employers. The technology has been built and is going into the testing phase. The collaboration provides companies and employees increased efficiency, lower costs and expanded access to healthcare.
One Med Chart's single-location web access technology for patient records rounds out Teledactyl's employer healthcare solution. Teledactyl's application integrates with and enhances the existing parts of an employer's benefits program including telemedicine, pharmacy, lab and wellness. The employee will now have a single place to focus healthcare decision making, allowing for the design of personalized programs to improve health outcomes. One Med Chart's record management provides convenience and peace of mind to the employee who will be able to securely consolidate his or her medical history and share relevant data with providers.
With healthcare costs continuing to rise, more and more patients are budgeting or postponing treatment to pay deductibles. Employers feel the pressure, too, as their costs increase to care for the well-being of their employees. In many cases, there is a lack of understanding and under-utilization of benefit options and a lack of straightforward tools to make the best decisions. In rural and undeserved communities, there is also a lack of affordable, quality options for treatment. Employees are driving long distances and waiting hours in a waiting room to see a provider or seeking costly non-urgent care in an Emergency Room.
The combined power of Teledactyl and One Med Chart combats these problems with a holistic ecosystem approach with tools that empower both the employer and the employee to make more cost-effective, quality healthcare decisions. With complete information, conversations between the patient and provider will be more effective. With blockchain, we can focus less on data security and redundancy and more on treatment and prevention. With increased access points, we bring care to where the need is. These are benefits which can pay back in a healthier workforce, coupled with increased retention rates of associates.
"The much-needed disruption in healthcare delivery is no easy task, especially when you are using innovative technologies like blockchain and AI (artificial intelligence). To address the concerns of access to care, efficient utilization of health offerings and overall health spending, companies need to focus on what matters most – their employees. It's not a one-size-fits-all model. Employees base their healthcare decisions on convenience, cost, experience and how they understand the options available to them. The partnership between Teledactyl and One Med Chart helps employers implement the solution that works for their people," says Alan Bottorff, Teledactyl Co-Founder & CEO.
"Technology and healthcare have seen tremendous innovations that support the patient and healthcare providers with employers looking to provide the best for their workforce. This collaboration provides a platform for all to benefit," says Taralyn Vico, President of One Med Chart.
About Teledactyl
Teledactyl is an healthcare ecosystem solution that integrates existing health services and improves current capabilities across the healthcare spectrum through a single, highly secure blockchain platform. From telemedicine to pharmacy to lab, the health ecosystem reduces costs and increase access while changing the way healthcare is delivered and experienced. To learn more about Teledactyl, visit https://teledactyl.com/.
About One Med Chart
One Med Chart's mission is to give people the power to control their health information and prevent many unnecessary deaths that happen every year from not having one's medical record during an emergency. We help give you a modern look into your health which was, until recently, not possible. Your doctor shouldn't be the only one with access to your records, and that's why we've created an application that provides a convenient, safe, and secure way to view it all with a simple tap on your phone. Help your doctors protect your medical records. To learn more about One Med Chart, visit https://www.onemedchart.com/.
Release ID: 518802