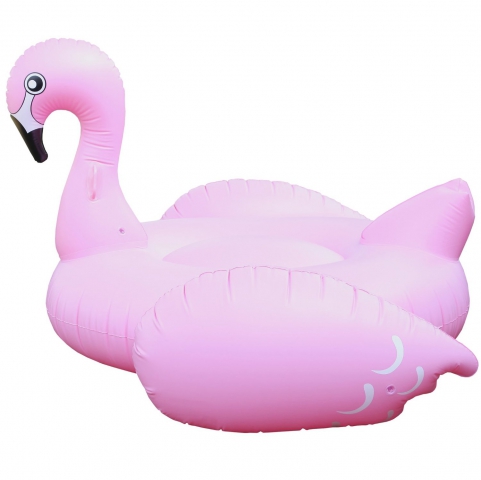 - May 9, 2017 /PressCable/ —
Summer is almost here – a time for longer days, warmer weather and more leisure time. Teddy Shake expects that the demand for their pink flamingo float will continue to increase as summer approaches. Instead of taking advantage of this growing demand by increasing prices, Teddy Shake announced today that they are considering incentives to help lower the price designed to make the flamingo float affordable for everyone.
"We have had an amazing first six months," said Teddy Shake spokesperson Bailey Anderson. "Sales have exceeded projections, and customers have been excited and enthusiastic about our float. As we approach the summer season, we expect the demand for the float to continue to increase. We want to find ways to ensure that our flamingo float is affordable for everyone, so we are considering the use of stacked discounts. We could run discounts for previous customers, students, seniors – there are so many possibilities. Our hope is to have an official outline of the discounts announced soon."
Teddy Shake's flamingo float is made of a bright, colorful pink vinyl that is durable and high quality. The float measures 80 inches and includes handles to assist with riders getting on and off the float. The float can be used for riding or lounging and is suitable for all ages.
There are currently over 100 customer reviews written for the Teddy Shake inflatable flamingo float. The average review has a rating of 4.6 out of 5 stars. One satisfied customer, Angel27, wrote a recent five-star review and said "My three year old thinks this pink flamingo raft float is just the coolest, not just because it's pink. Ok, you can pass this off as a boat to a three-year-old it's that big to a pint-size child. Let's talk heavy duty; this is in no way a flimsy fly away float like the umbrellas or other flimsy toys on a windy day. Only negative which I already knew by reading other reviews before purchasing is….. you won't find me blowing this bad boy up with just my own hot air via my mouth. You Will definitely need some sort of air pump preferably an electric one that you can plug into your vehicle USB style:)"
The Teddy Shake pink flamingo float is sold only on Amazon.com and is currently priced at $39.99. Free shipping is always available on all orders over $49.
About Teddy Shake: "As relaxing as a Bahama breeze; Teddy Shake makes the world's most relaxing, fun, and quirky pool floats for you and your family. With constant R&D and innovative thinkers working to make the most incredible pool floats and toys possible, we want nothing more than for you to have the time of your life."
Release ID: 196150