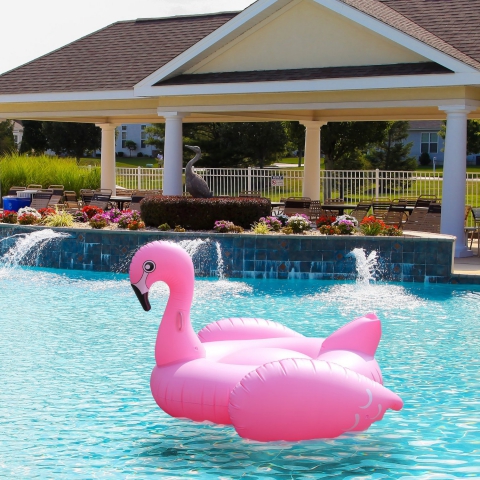 - February 14, 2017 /PressCable/ —
The Teddy Shake pink flamingo float has become a customer favorite since it first launched on Amazon.com. Sales have far exceeded projections, and customer feedback has been very positive. As the warmer weather approaches, sales for the float continue to increase, but Teddy Shake is still looking for ways to improve and provide a better experience for customers.
"We are thrilled with the reception our pink flamingo float has received so far," said Bailey Anderson, Teddy Shake company spokesperson. "Since our item is a float, we know it will be used in the water. Some customers have reported using it in swimming pools, while others in lakes and rivers. We want to ensure that customers are fully aware of what constitutes safe conditions for use of the float in the water. It is important for customers to know that non-swimmers should still wear life preservers and not count on the float to keep them safe in the water. It is also important for customers to understand that in rough conditions that can occur on lakes, this is not a time the float should be used. We have decided to develop a guide to include this important safety information. Although this is a serious topic, we want the guide to be fun too – so will also include other alternative ways that the float can be used, including as a lounge in the living room or at campsites."
Over ninety customers have written reviews for the Teddy Shake flamingo float on the Amazon.com listing, making the float one of the highest rated. Ninety-three percent of those reviewers rated the flamingo inflatable a perfect five out of five stars. One five-star reviewer wrote "I LOVE THIS RAFT. We blew it up with a bicycle pump pretty easily considering the size of the raft. Be sure to get different size nozzles though. The color pink that is literally absorbs zero heat. We let it set in the sun floating in the pool all morning, and when one of the kids jumped on it I was terrified she would get burned, but she said it was nice and cool! It's adorable and massive. Perfect for sunbathing too! The tail makes a perfect pillow. The plastic is pretty heavy duty compared to cheap dollar store rafts, and it held air beautifully. I hope they make other animals like swans and giraffes. I will be keeping an eye on this company come next summer for Lake sports."
The Teddy Shake flamingo float measures an impressive 80-inches in length and is currently priced at $39.99.
About Teddy Shake: "As relaxing as a Bahama breeze; Teddy Shake makes the world's most relaxing, fun, and quirky pool floats for you and your family. With constant R&D and innovative thinkers working to make the most incredible pool floats and toys possible, we want nothing more than for you to have the time of your life."
Release ID: 169723