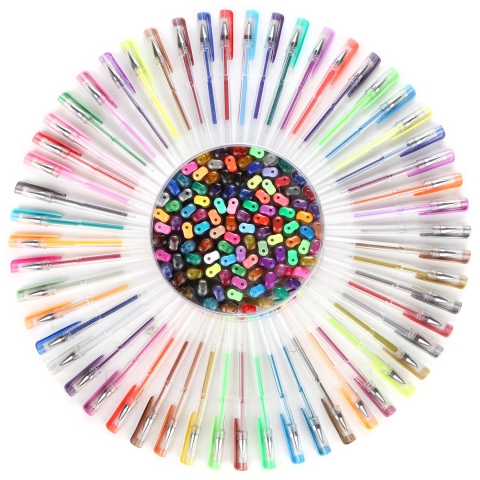 - February 8, 2017 /PressCable/ —
The Teddy Shake 105-piece gel pen set has been available for purchase for almost four months now. To celebrate this four-month anniversary, Teddy Shake has planned to offer a special price on their best-selling gel pen set to prospective customers.
"It is hard to believe it has been four months since we launched our gel pen set," said Teddy Shake spokesperson Bailey Anderson. "We have had an incredible first few months, with sales far exceeding projections and goals. We have so much to celebrate, and our upcoming 4 month anniversary seems like the perfect time! We want to celebrate with our customers, and plan to have some special promotions during the week of our anniversary."
The 105-piece gel pen set has been a customer favorite on Amazon.com, the exclusive selling partner for the gel pens. A new five-star review was written today by a verified purchaser who said "The first thing I noticed is the great assortment of colors. The glittery ones really add a nice touch to my adult coloring books….Out of 105 pens, I'm generally pleased with almost all of them. I'd recommend them, especially for the price."
Included in each package of the Teddy Shake gel pen set are pens of many different color varieties, including neon, milky, glitter, metallic and rainbow. Each pen contains 60% more ink than other gel pen sets, and are guaranteed to last longer. The ink inside each gel pen is also acid-free and lead-free, which makes them safe for children, or for use in scrapbooks and archival documents. Customers have reported that they love to use the Teddy Shake gel pens in adult coloring books, journals, school work, lab reports, art projects and doodling.
For a limited time, the Teddy Shake gel pen set is priced at $24.99, with free shipping available on purchases over $49.
About Teddy Shake: "Desiring to make the world a more colorful and creative place, we at Teddy Shake work every day to ensure you have the best gel pens sets on Earth. With hundreds of colors and various tones, we put our gel pens through massive Research and Development tests to make sure your creative flow never stops, and your creations are always perfect."
Release ID: 167926