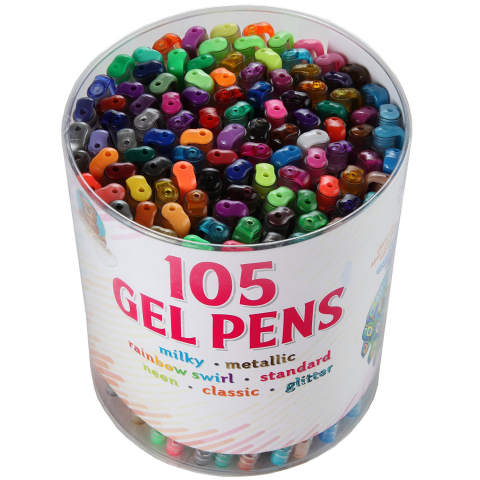 - February 10, 2017 /PressCable/ —
Teddy Shake launched their top-selling gel pen set just four months ago. During that time, the gel pens have become a best-seller on Amazon.com, shattering all goals and projections made by Teddy Shake. Although the popularity of the gel pens is exciting, Teddy Shake has decided they want to do more than just sell some great gel pens; they want to be involved in ensuring that any gel pen sold is lead-free and safe for children.
Company spokesperson Bailey Anderson issued a statement explaining their reasoning. "We have a unique product that is loved by both children and adults," said Anderson. "Whenever you sell a product for children, there are always extra safety issues to consider. One of these issues is lead in products. The internet has been an amazing thing that has changed how the world shares information and products. What consumers do not realize is that products made and sold in other countries can contain chemicals or items that could be harmful. When a gel pen is created, it is understood that the gel pen is for writing or drawing – but children and pet are unpredictible. You never know when a teething child might choose to suck on a gel pen, or a dog might get ahold of one and chew through it. Shouldn't we make sure that gel pens that are sold and shipped to the USA maintain our stricter safety standards?"
Every Teddy Shake gel pen sold is not only lead-free, but also non-toxic and acid-free. Contained within every gel pen set are 105 pens of various colors, including milky, glitter, neon, metallic and rainbow. The colors are the Teddy Shake gel pens are vibrant, and each pen contains 60% more gel ink than other gel pens on the market. The Teddy Shake gel pens are perfect for use in adult coloring books, scrapbooks, journals, lab reports, school writing or just plain doodling.
The Teddy Shake gel pen set can be purchased only on Amazon.com, and it is currently priced at $24.99. Free shipping is provided for any purchase of $49 or more.
About Teddy Shake: "Desiring to make the world a more colorful and creative place, we at Teddy Shake work every day to ensure you have the best gel pens sets on Earth. With hundreds of colors and various tones, we put our gel pens through massive Research and Development tests to make sure your creative flow never stops, and your creations are always perfect."
Release ID: 168903