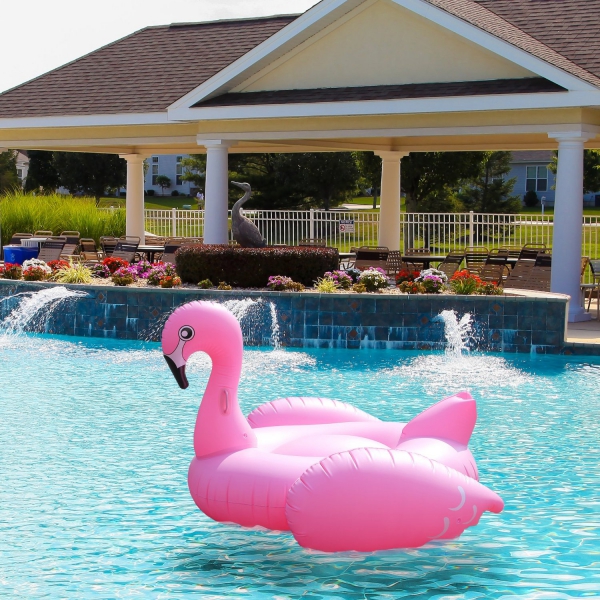 - November 16, 2016 /PressCable/ —
The Teddy Shake inflatable pink flaming float launched on Amazon.com in early September 2016. Since the launch, sales of the float have exceeded all projections and customers have left rave reviews making this the best inflatable flamingo float on Amazon.
"When we drafted our sales projections for the flamingo float, we tried to be aggressive and set challenging sales goals," said company spokesperson Bailey Anderson. "Not only have we reached those goals, but we have shattered them. This has been such an exciting thing to see, and the launch is most certainly been a success."
The Teddy Shake flamingo float has been rated the best inflatable flamingo by customers. The float measures 80-inches when inflated, and is made of a durable vinyl that can withstand hours of play at the beach, in the pool or in the family room. An adult can fully lounge on the float, which is also large enough for 2 or more children to sit and ride on it.
Over 250 satisfied customers have left reviews on the Teddy Shake flamingo float. 100% of customers stated they loved their flamingo float, and the float has been rated the best inflatable flamingo on Amazon.com. One five-star reviewer wrote, "If you're looking a HUGE raft for playing or relaxing in the pool or lake, you will not be disappointed in this pink flamingo float. We vacation at the lake every year and are always on the hunt for a toy that will entertain the kids. As my kids grow (currently 10 and 12), it's harder and harder to find high-quality products that 1. Are sturdy enough to support their weight 2. Don't fall apart or get holes after a day rough play and 3. Are big enough to hold both of them. Everything is more fun for them when they can play with it together. This year we tried a fairly inexpensive kind of medium sized shark that lasted a couple hours and then a larger turtle that was a little more expensive but didn't hold up well. This flamingo is huge and very sturdy. It takes a while to fill, with 4 separate compartments, but is oh so fun. They can easily fit on it together kind of like a floating dock to jump on and off of, or I can use it to float on."
Teddy Shake's inflatable pink flamingo float is sold exclusively on Amazon.com. All Amazon Prime customers will receive free two-day shipping on all purchases, and any order over $49 will receive free standard shipping.
About Teddy Shake: "As relaxing as a Bahama breeze; Teddy Shake makes the world's most relaxing, fun, and quirky pool floats for you and your family. With constant R&D and innovative thinkers working to make the most incredibly pool floats and toys possible, we want nothing more than for you to have the time of your life."
Release ID: 146556