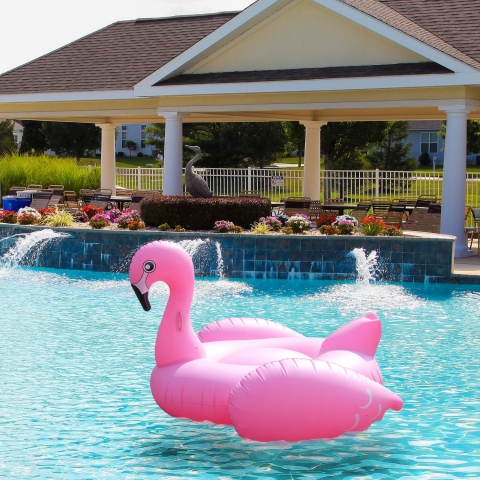 - March 8, 2017 /PressCable/ —
Over the past six months, the pink flamingo float by Teddy Shake has become a customer favorite and Amazon.com best seller. Teddy Shake understands the harmful effects that chemicals can have on people. In order to ensure that their flamingo float is safe, they have taken extra safety measures to ensure that the Teddy Shake pink flamingo float is free from these chemicals.
"Our company has invested countless hours into the development of this float, to ensure that we can provide the best product for our customer. We have been excited about the customer response to our float this far and have received fantastic feedback. We want to make sure our customers understand they are important to use. We could use less expensive materials in the production of our flamingo float, but those materials often contain chemicals that have been proven to be unsafe. We do not want to expose our customers to these harmful chemicals, and take every effort to ensure the highest-quality materials are used for our float," offered company spokesperson Bailey Anderson.
Teddy Shake's inflatable pink flamingo float is made of a bright, pink vinyl that is durable and high quality. Measuring 80-inches in length, the float includes handles to assist with riders getting on and off the float. The float can be used for riding or lounging and is suitable for all ages.
Over 90 satisfied customers have left glowing reviews of the Teddy Shake flamingo float, and the average rating a 4.9 out of 5 stars. One five-star reviewer wrote "This is one of the best "fun" purchases we've ever made! This float is HUGE. Huge! It is comfortable for a bigger girl like myself. It feels nice to fit comfortably on a pool float. The kids love it and call it their 'island.' Hahaha! We do have an air compressor which helps blow it up quickly – just a tip I'd recommend. It's so big I couldn't imagine blowing it up by mouth. We also felt it held the air pretty well. With some recent significant temperature changes we thought it would be a total mush, but it just needed the tiniest bit more air. This was the only extra fill, and it's been blown up for about three weeks now. I'd definitely recommend for a larger pool and/or anyone who has lake/beach access."
Sold exclusively at Amazon.com, the Teddy Shake flamingo float is currently priced at $34.99. Free two-day shipping is available to all Amazon Prime customers. Any order over $49 will also ship for free.
About Teddy Shake: "As relaxing as a Bahama breeze; Teddy Shake makes the world's most relaxing, fun, and quirky pool floats for you and your family. With constant R&D and innovative thinkers working to make the most incredible pool floats and toys possible, we want nothing more than for you to have the time of your life."
Release ID: 176203