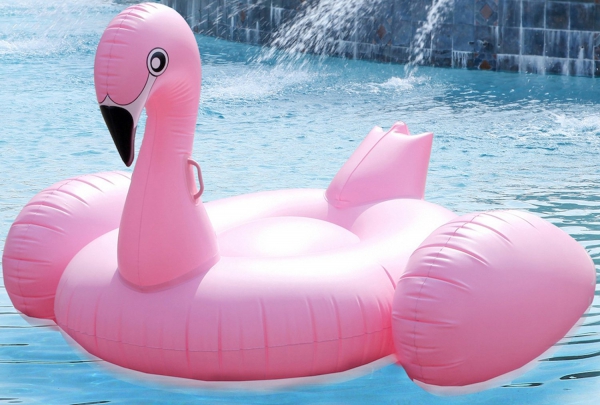 - April 20, 2017 /PressCable/ —
Now that it is spring, summer and warmer weather is just around the corner. Teddy Shake issued a statement to customers today to remind them that their gigantic pink flamingo float is a perfect addition to every household, and great for many summer plans.
"What says warmer weather and fun better than a gigantic pink flamingo," laughed Teddy Shake spokesperson Bailey Anderson. "Our pink flamingo is designed to make people happy. It is designed to be durable enough that it can be used in the water, in a home or even at a campsite. Our float is larger, and made of higher quality materials than other inflatables currently on the market. We encourage customers to try our float and see for themselves."
Measuring an impressive 80-inches in length, the Teddy Shake pink flamingo float and is made of the highest quality, durable, bright pink vinyl. Each float contains multiple valves, so several people can work on inflating the float at once. Since the float is so large, there is easily room for one or two people to ride the float, or for a single person to fully stretch out and relax.
Customers love the Teddy Shake flamingo float. Over 90 customers have left reviews on the Amazon.com listing for the float. 99% of customers stated they liked their pink flamingo float. One verified customer left a five-star review this week and said, "This is the 3rd float I've gotten from them, and I love them. I even bought 1 for my girlfriend for her birthday because she likes mine so much. It's great. Good quality and so much fun!!!!!!!"
Currently priced at $39.99, the Teddy Shake pink flamingo float can be purchased only on Amazon.com. Free shipping is available.
About Teddy Shake: "As relaxing as a Bahama breeze; Teddy Shake makes the world's most relaxing, fun, and quirky pool floats for you and your family. With constant R&D and innovative thinkers working to make the most incredible pool floats and toys possible, we want nothing more than for you to have the time of your life."
Release ID: 188463