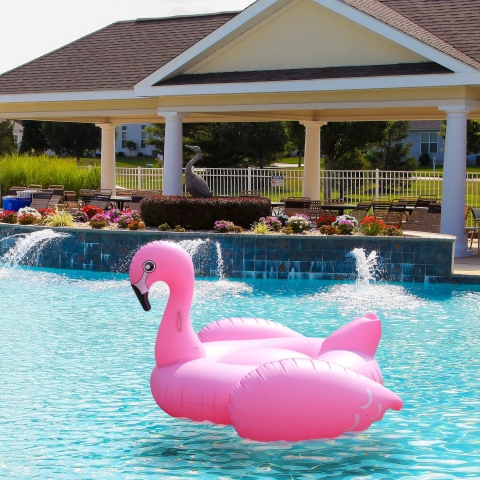 - April 6, 2017 /PressCable/ —
Since the launch of the Teddy Shake pink flamingo float less than one year ago, it has quickly become a customer favorite and Amazon best seller. The Teddy Shake flamingo float has had fantastic reviews, with 94% of customers rating the float a four out of five stars or higher. This week, Teddy Shake company spokesperson Bailey Anderson took a few moments to talk about the success of the float.
"We wanted to create a high-quality product, made of the best materials, that was fun for customers," explained Anderson. "Something to remember is that the quality of a product does not matter if you do not have customers satisfaction. You need customer satisfaction to be successful. Teddy Shake is committed to customer satisfaction. We are grateful for our customers, for their feedback. They are what provides the motivation and inspiration to make the best product available."
The Teddy Shake inflatable pink flamingo float is made of a high quality, durable bright, colorful pink vinyl. Measuring an impressive eighty inches in length, the float includes handles to assist with riders getting on and off the float. The flamingo float can be used for riding or lounging and is suitable for all ages.
Over 90 customers have left glowing reviews of the Teddy Shake pink flamingo float One five-star reviewer wrote "This pink flamingo float is so much fun! My kids absolutely love playing with this raft. It is huge, so it held four kids ranging in age from 2-6 on it comfortably. The kids love riding on it and jumping off of it. We are on one of the great lakes, and we can easily anchor it in the shallow water for the kids to play on and with. It will also hold two moderate sized adults. We also got another one of these, and a couple of the swan ones and the kids have a blast paddling them around and having all of the passing boaters honk at them. It's very sturdy and was easy to blow up and deflate for storage too."
The Teddy Shake pink flamingo inflatable is currently priced at $39.99 and sold exclusively on Amazon.com. Free shipping is available through Amazon.
About Teddy Shake: "As relaxing as a Bahama breeze; Teddy Shake makes the world's most relaxing, fun, and quirky pool floats for you and your family. With constant R&D and innovative thinkers working to make the most incredible pool floats and toys possible, we want nothing more than for you to have the time of your life."
Release ID: 183950