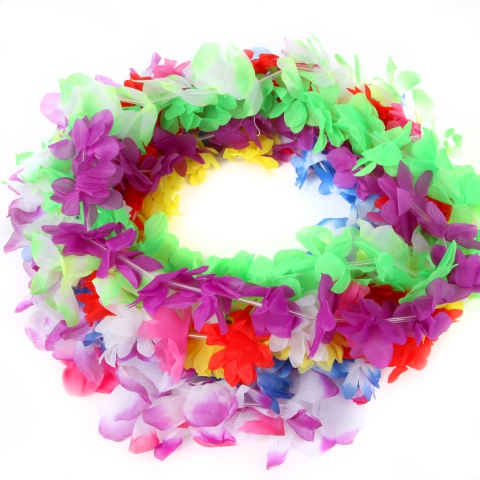 - May 5, 2017 /PressCable/ —
Since the launch of their silk Hawaiian leis just a few months ago, Teddy Shake has become a leading seller of these leis as party favors on Amazon.com, the exclusive selling partner for the leis. Part of what has attracted so many loyal customers has been the current pricing point of the leis – just $19.999 for a box of fifty leis. Unfortunately, Teddy Shake issued a statement today that they have seen another increase in the silk materials used in the production of the leis, and the present discounted price will be ending soon.
"We have tried our best to create a quality lei that is attractive and affordable for customers," explained Teddy Shake spokesperson Bailey Anderson. "At the same time, we are committed to the use of quality materials. This can be a very difficult thing to balance. Recently the price of the silk we use in production of the leis was increased again. Although we have absorbed previous material increases, we cannot afford to absorb this one – we must increase the price of our leis. Sure, less expensive material might be available, but these materials have yet to meet our standards of quality. We want to assure our customers we will take every effort possible to keep the leis affordable, and as soon as material prices decrease, the sales price will decrease as well."
One hundred percent of customer reviews written for the leis have been a perfect five out of five stars. One reviewer wrote "I got these for a Hawaiian themed doll/sleepover party my daughter had with her friends. When I opened up the package, I was surprised at the quality. I was expecting like a paper-ish material, but these are actually cloth. My other kids pulled a few out of the package and ran off with them. But there are A LOT in here, so there was plenty left over for the slumber party. The girls put a few on themselves and then looped them to fit the dolls. It was a cute party."
Customers are encouraged to contact Teddy Shake directly with any questions or concerns.
About Teddy Shake: "Desiring to make the world more vibrant and playful, we at Teddy Shake work everyday to ensure you have the best Hawaiian flower leis on Earth. With rich, vibrant colors and silky tones, we put our Hawaiian leis through massive Research and Development tests to make sure your luau party never stops, and your ideal mood is always realized."
Release ID: 194324