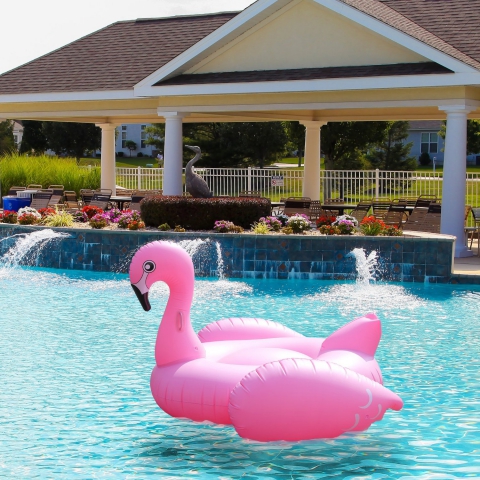 - May 8, 2017 /PressCable/ —
Summer is just a few weeks away, and Teddy Shake is already making plans to celebrate. In a statement issued today, a company spokesperson said that a new summer fun guide is in development, and will be provided to anyone who purchases the best-selling pink flamingo float.
"We have such a great customer base," stated Teddy Shake company spokesperson Bailey Anderson. "They have been so enthusiastic, sharing their stories and photos of how they like to use our pink flamingo float. We want to give something extra back to these customers – this is why we are working on a summer fun guide." Anderson continued by saying that the guide will be available to anyone who has purchased the eighty-inch pink flamingo inflatable.
Over one hundred customers have written reviews for the Teddy Shake flamingo float, with ninety-seven percent of reviewers saying they liked their flamingo pool float. One verified purchaser, Goblin King, wrote a five-star Amazon review and said "Love this big pink flamingo! Now I can look like Taylor Swift on her Instagram announcement when she was dating Calvin Harris! She was on a swan; I'll be on a flamingo – minus Calvin Harris haha. This is more of a raft than a pool float. I love how big it is. I'm pretty tall for a female and can lay comfortably on this and float around the pool. We also have a lake nearby that I plan to take it to once the water warms up a bit. I also think it would be fun to take to the beach and would be a great conversation starter. The Vinyl is durable, but due to its size, I suggest using an electric air pump. If you have one of those, it will fill up in a jiff. I'm sure kids would love it, but I'm a 30-year-old kid at heart, and I'll be keeping this for myself. I may or may not share."
The Teddy Shake flamingo float sells for $39.99 on Amazon.com, with free shipping available.
About Teddy Shake: "As relaxing as a Bahama breeze; Teddy Shake makes the world's most relaxing, fun, and quirky pool floats for you and your family. With constant R&D and innovative thinkers working to make the most incredible pool floats and toys possible, we want nothing more than for you to have the time of your life."
Release ID: 194767