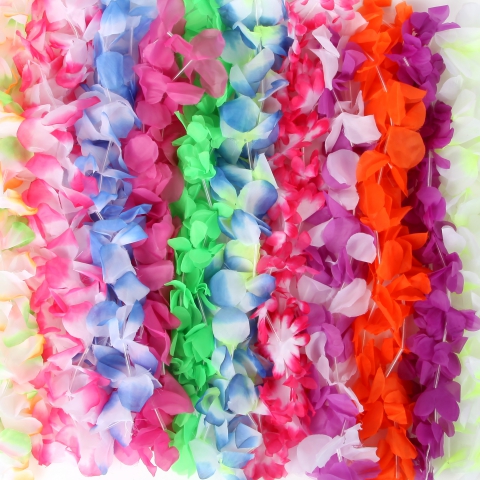 - April 28, 2017 /PressCable/ —
On a cold, dark January day, Teddy Shake launched a new product they believed could brighten the days of many and bring some summer sunshine and fun into winter – their silk Hawaiian leis. These leis have exceeded sales goals and projection each month since the launch. Today Teddy Shake issued a statement announcing the launch as successful.
"Many may not realize it, but there was actually quite a bit of research and development that went into the development of these silk leis before the launch," explained Teddy Shake company spokesperson Bailey Anderson. "We needed to ensure that we had the right type of silk for the flowers, to ensure that they remained full and lush. We needed to make sure the colors were strong and vibrant, and not fade onto clothing when they were worn. We needed to make sure the mechanism connection the lei, was a string that was also strong and could withhold some tension, but at the same time not is a potential choking risk. With the launch of our leis, we were aware of these costs, but wanted to ensure an affordable product for customers – so we priced the leis lower, knowing this meant it could take longer to return a profit. We are excited and happy report this has happened before projections, and would like to officially declare the launch of the leis a success!"
Customers would agree the launch of the colorful silk leis has been a success. The leis have gone from being the new kid on Amazon to being in the top 100 party items sold. This ranking continues to advance. Customers have also expressed satisfaction in reviews left for the leis. These leis currently have a perfect five out of five score rating for customer feedback. On verified purchaser wrote "Great value. We used them for a church event with some of the older kids in a tolerance class exercise to demonstrate how different cultures welcome people into their society. It was great. The item was packed well, and once opened we let them hang for a few hours to let them open up. The quality was much better than we expected, and some of the kids still wear them in class."
The Teddy Shake silk leis can be purchased exclusively on Amazon.com. Each box of fifty leis is sold for the price of $19.99, with free shipping options available.
About Teddy Shake: "Desiring to make the world more vibrant and playful, we at Teddy Shake work everyday to ensure you have the best Hawaiian flower leis on Earth. With rich, vibrant colors and silky tones, we put our Hawaiian leis through massive Research and Development tests to make sure your luau party never stops, and your ideal mood is always realized."
Release ID: 191911