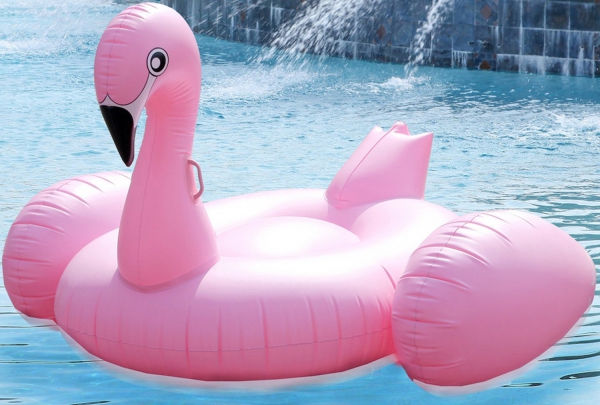 - March 10, 2017 /PressCable/ —
The Teddy Shake inflatable pink flamingo float launched on Amazon.com in early September 2016. Since the launch, sales of the float have exceeded all projections and customers have left rave reviews.
"When we drafted our sales projections for the flamingo float, we tried to be aggressive and set challenging sales goals," said company spokesperson Bailey Anderson. "Not only have we reached those goals, but we have shattered them. This has been such an exciting thing to see, and the launch is most certainly been a success."
The Teddy Shake flamingo float has been rated the best inflatable flamingo by customers. The float measures 80-inches when inflated, and is made of a durable vinyl that can withstand hours of play at the beach, in the pool or in the family room. An adult can fully lounge on the float, which is also large enough for 2 or more children to sit and ride on it.
Over 90 satisfied customers have left reviews on the Teddy Shake flamingo float. 100% of customers stated they loved their flamingo float, and the float has been rated the best inflatable flamingo on Amazon.com. One five-star reviewer wrote, "This pink flamingo float is so much fun! My kids absolutely love playing with this raft. It is huge, so it held four kids ranging in age from 2-6 on it comfortably. The kids love riding on it and jumping off of it. We are on one of the great lakes and we can easily anchor it in the shallow water for the kids to play on and with. It will also hold two moderate sized adults. We also got another one of these, and a couple of the swan ones and the kids have a blast paddling them around and having all of the passing boaters honk at them. It's very sturdy and was easy to blow up and deflate for storage too."
Teddy Shake's inflatable pink flamingo float is sold exclusively on Amazon.com and is currently priced at $34.99. All Amazon Prime customers will receive free two-day shipping on all purchases and any order over $49 will receive free standard shipping.
About Teddy Shake: "As relaxing as a Bahama breeze; Teddy Shake makes the world's most relaxing, fun, and quirky pool floats for you and your family. With constant R&D and innovative thinkers working to make the most incredible pool floats and toys possible, we want nothing more than for you to have the time of your life."
Release ID: 176753