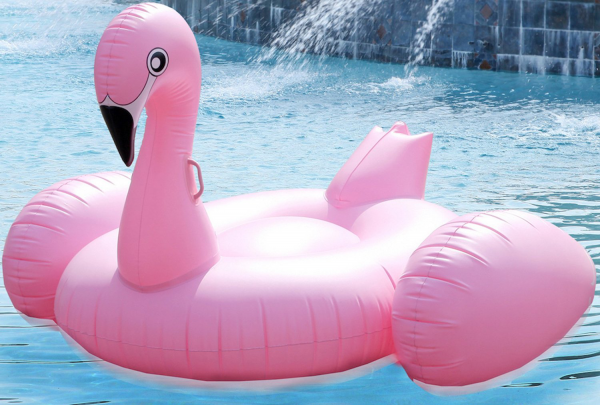 - April 25, 2017 /PressCable/ —
Summer means warmer weather, longer days, more free time for the kids and time for people to gather together. Many activities will occur around the pool, the lake or the beach, and Teddy Shake wants to make sure their bright pink flamingo float is part of that. Since the launch of their flamingo inflatable at the end of last summer, sales for the float have continued to increase, and customer loyalty has grown.
"Our customers have been so enthusiastic about our pink flamingo float," exclaimed Teddy Shake spokesperson Bailey Anderson. "Their enthusiasm is contagious! We love to see their photos, hear their stories about how much they are enjoying our flamingo float. Now we want to share something with them. In an effort to celebrate summer, our customers and in an effort to give back to them, we are announcing our countdown to summer contest. Each week, we will select a customer from photos, stories, and reviews that have been submitted, and declare them the winner to our countdown to summer contest. They will then receive a free pink flamingo float and a few other fun prizes."
The Teddy Shake bright pink flamingo float measures 80-inches in length and is made of a durable, pink vinyl. With this large size, the float is easily big enough so an adult can lounge across the float, or it can be ridden by several children. Designed with multiple valves to make inflating the flamingo easier Teddy Shake went through every effort to create the best possible float for their customers.
Customers have been very enthusiastic and love the Teddy Shake pink flamingo float. Nearly 100 customers have left reviews for the float on Amazon.com. 98% of these customers stated they liked their flamingo float. One customer left a five-star review and said, "It is large! My kids enjoy it, and it does stay inflated for a long time. The only problem for us is that my little one will randomly pull the plugs and deflate it. When the plugs are pushed inside of the flamingo, they are really hard to get to. Works for stopping the toddlers from deflating but it's also difficult for us adults to get to. Overall, a great quality product."
The Teddy Shake bright pink flamingo float is currently priced at $39.99 and can be purchased exclusively on Amazon.com. Orders over $49 can receive free shipping.
About Teddy Shake: "As relaxing as a Bahama breeze; Teddy Shake makes the world's most relaxing, fun, and quirky pool floats for you and your family. With constant R&D and innovative thinkers working to make the most incredible pool floats and toys possible, we want nothing more than for you to have the time of your life."
Media Contact Info
Bailey Anderson
123 S.E. 3rd Ave. #427
Miami, FL 33131
Release ID: 190018