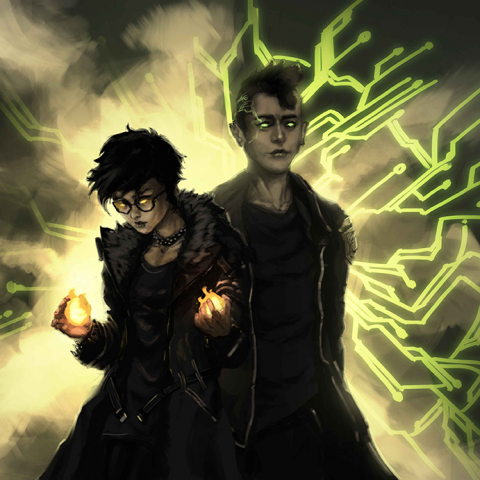 - October 18, 2020 /PressCable/ —
Sci-fi and Fantasy fanatic Damion Taylor is launching his brand new audiobook/podcast, "Tech Witch". The audiobook/podcast is live TODAY (available on Spotify, Apple Podcasts, Google Podcasts or wherever you get your podcasts) and is expected to become a big hit with fans of the Sci-Fi and Fantasy podcasts.
More information on the book can be found here: https://anchor.fm/tech-witch
This is the first audiobook/ narrative podcast Taylor has authored. The story was written with the goal of immersing the audience in a world where the line between technology and magic ceases to exist.. There's also particular excitement about this launch because it is one of the few stories that seamlessly blends Science Fiction and Fantasy genres.
Tech Witch is centered around Wiccan twins Lowell and Bridgette Mathieu, who discover on their 21st birthday that they are the center of a years-old prophecy foretelling a time when the line between magic and technology ceases to exist. Readers will likely find a particular interest in how "Tech Witch" flips traditional witch lore on its ear. Lowell and Bridgette Mathieu have always believed that they were the magical duds in a long and distinguished line of powerful witches. However, it turns out that unlike other witches, whose power is drawn from nature, they get their power from the manmade world – from technology. The more advanced we are, the more powerful they become. The podcast's artwork was created by artists Miguel Blanco & YPAAM. "Tech Witch" is being released by Digital Compendium – the development and production arm of Taylor's company Prometheus Digital Studio.
Damion Taylor has a background in digital strategy and analytics for major studios and digital start-ups. This experience helped shaped the creation of the podcast. Damion's background lead him to the insight that most creators and studios create for themselves instead of for their audience. As a result he vowed to create content with the audience at the forefront..
When asked about why he created "Tech Witch," Taylor said: "I want to make content that reflects the diversity of the world we live in. I want to make stuff that people love to share and that gives them a way to connect with each other. Plus, I am a total Science Fiction and Fantasy geek."
Taylor hopes that the podcast will eventually become a multimedia phenomenon – spawning comic books, an animated series and maybe even a movie or two. This positive outlook from the author is certainly testament to his optimism and adaptability considering some of the mishaps during its creation. At one point the initial plan for Tech Witch was to create a simple, yet compelling weekly premium series for social media or digital networks like Hulu or Peacock. But the COVID-19 pandemic hit and blew all of his plans out of the water. Ironically, he realized that he had all the technology in place to create "Tech Witch" as an audiobook or narrative podcast.
In a recent interview, the author made a point of thanking Trey Livingston, for doing an amazing job translating the original story into an audiobook/podcast script and Caitlyn Martin for her amazing voiceover work and insights throughout the production and recording process. Damion Taylor also took time to make a very special thank you to his family and friends for their part in the creation of the podcast, saying: "A special thanks to my wife Kim and son Kai who allowed me time to work on this passion project. I also want to thank Dr.Charles & Marie Martin who provided early feedback and encouragement."
Those interested in learning more about the book can visit here: https://anchor.fm/tech-witch
Release ID: 88980805