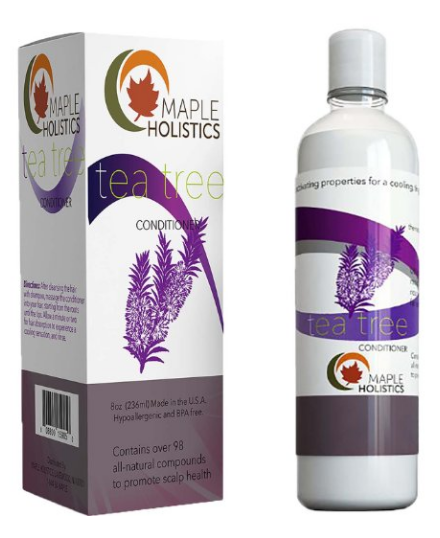 - July 11, 2016 /PressCable/ —
Maple Holistics has announced that it has added another member to its family of all-natural personal care products with the introduction of their new Tea Tree Oil Conditioner. Available for purchase now through the Maple Holistics website, the Tea Tree Oil Conditioner consists of a comprehensive anti-dandruff treatment combined with therapeutic-grade essential oil formula and natural conditioning agents to create the ideal hair conditioning product.
The conditioner contains no silicone or sulfate ingredients, which is safest for color treated hair. The conditioner is cruelty-free, paraben-free, hypoallergenic, made in the USA, contains no artificial colors or harmful ingredients, and is packaged in environmentally friendly, BPA-free bottles.
Using only nature's best conditioning agents, Maple Holistics Tea Tree Oil Conditioner features complex plant-derived keratin, silk protein amino acids, vitamin-B5, and more. The dandruff-fighting essential oils include verbenone-rich rosemary, Bulgarian lavender, and Australian tea tree to treat oily hair, itchy scalp, skin blemishes, and other hair-related problems and symptoms.The original moisturizing formula works to improve the quality and health of all kinds of hair – dry, curly, thinning, wavy, frizzy, aged, brittle, etc. Intended for use by both men and women, the conditioner has been proven effective with people of all ages and hair types based on critical reception and testing.
The release of Maple Holistics Tea Tree Oil Conditioner follows the successful launch of Maple Holistics' Tea Tree Oil Shampoo, Argan Oil Shampoo, Sage Shampoo, Slik18 Shampoo, and other acclaimed all-natural hair care products. Maple Holistics hair care products make up one part of its multi-faceted line of natural personal care products which boast the purest and highest quality ingredients used in each product, maximizing the therapeutic potential for each specific area of health.
About the Company
Maple Holistics provides industry leading, all-natural hair, body, and skin products. The company offers a natural, holistic range of premium products which can enhance hygiene, health and daily living. Company products are made in the USA. For more information see MapleHolistics.com.
Release ID: 122391