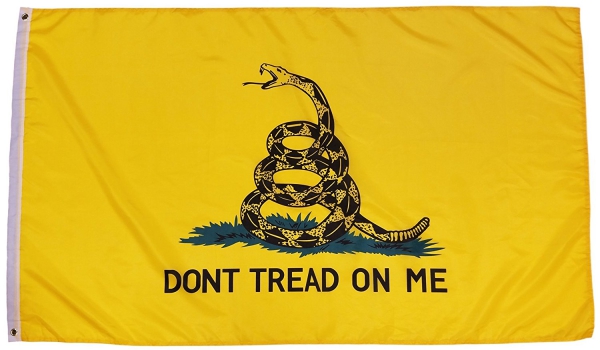 - June 1, 2017 /PressCable/ —
Long-term and reputable Amazon seller, High Supply, also known as HJTC, a homeware, office and accessory specialist based in Huntsville, Alabama, has released a banner-styled version of their Gadsden Don't Tread On Flag due to the popularity of the product. With more than 1,000 Gadsden flags sold over the past 12-months, HJTC feels this banner-styled flag compliments their range and gives customers greater options.
More information is available at https://www.amazon.com/Gadsden-Flag-Dont-Tread-Feet/dp/B01N5QSQ4A.
Just released, the banner-styled Don't Tread On Flag, made of lightweight polyester, makes it perfect to hang in the den, man-cave, office or bedroom. In fact, many purchasers have said that they bought the flag as a symbol of their patriotism and commitment to America.
The banner-style flag measures 94 x 8 x 0.5 inches and weighs just 2.4 ounces. With double-stitching and printing on one side, this flag is durable. However, it's lightweight fabric means that it's suited to low wind areas. So, if in search of an outdoor flag that will withstand high winds, then it's best to look for a heavyweight version of this flag.
Well-priced for the quality, the banner-styled Gadsden Don't Tread On Flag is easily hung for display with grommets strategically positioned. Plus, the flag has a 100% money-back manufacturer warranty, for buying reassurance.
As a historical American flag, the banner-styled Gadsden Don't Tread On Flag, is a standout in yellow with a ready-to-strike rattlesnake printed on its front face. Symbolic and dating back to the 1800s, this banner-styled flag originally created by Christopher Gadsden, an American statesman and general symbolizes American pride – don't take advantage of an American or they will strike.
When asked about the service that HJTC supply and the banner-styled Gadsden Don't Tread On Flag, one purchaser of the flag said, "Beautiful flag. I love it! I plan to hang it on my enclosed front porch as a statement to all who come to my house. Where I live we frequently have high winds, so the lightweight material would not be suitable for outside display. But I highly recommend this flag for sheltered places or locations where the winds are light or for indoor use."
To find out more about High Supply or HJTC and their Gadsden Don't Tread On Flag, call 256 652 3334 or visit the link above.
Release ID: 203150