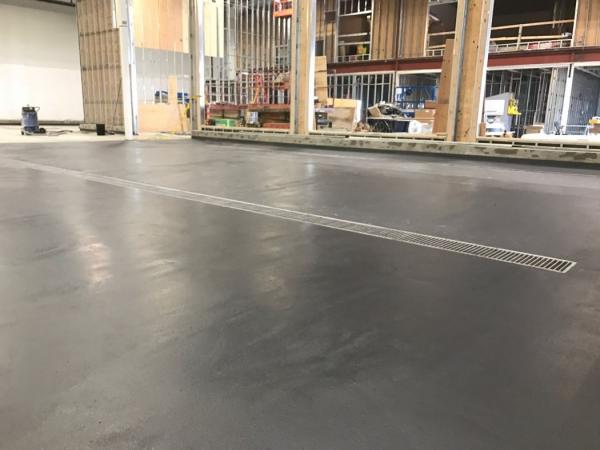 - August 30, 2018 /PressCable/ —
Winnipeg Canada – TC Floors West, one of Winnipeg's most successful flooring companies are delighted to announce that they have completed laying one of the largest ever polyurethane cement floors in Manitoba. The floor when completed was over 50,000 square feet in size and consists of a 1/4″ Polyurethane Cement decorative broadcast system. The client was one of Canada's largest pork producers, which meant that the flooring type had to be capable of withstanding continuous high heat cleaning, that is necessary for a federally inspected food facility.
Laying a floor of this size required significant planning, preparation, and organization, and there are probably only a couple of flooring companies that would have the knowledge expertise and capacity to complete such a large scale project successfully. The technical challenges and difficulties when working at this scale, are magnified many times over, as an example, the project required miles of trench drain, and everything needed to be installed to perfection, to ensure a low deficiency rate moving forward.
"This was probably one of the biggest projects, we have ever been involved in, and we are both delighted and proud to announce that we completed the project on time, and within budget," said Michael Rosenblat. "This is a testament to our staff, training, and logistics, and demonstrates once again why TC Floors West is one of the leading flooring companies in Canada. Whatever your flooring requirements be they big or small give us a call today, safe in the knowledge that you will end up with a perfectly installed floor, that will last many years."
Toronto Concrete Floors is a locally owned and operated flooring company that has grown into one of Canada's most respected flooring contractor and surface prep companies. In 2013, the company opened its first independent western office in Winnipeg, started by Toronto Concrete Floors and Michael Rosenblat. Michael purchased the western office outright in 2015 and continues to bring the innovative and creative solutions that the company has become known for. Toronto Concrete Floors West is one of the few surface preparation companies in Canada that installs Ardex's products with a "Level Master Elite" warranty, a ten year extended warranty. This certification has been earned by achieving some significant benchmarks in the industry. Firstly, installing and pouring a substantial amount of self-leveler to exacting specifications. For more information about the company and the services they provide visit their website at https://www.tcfloorswest.ca
Release ID: 400315