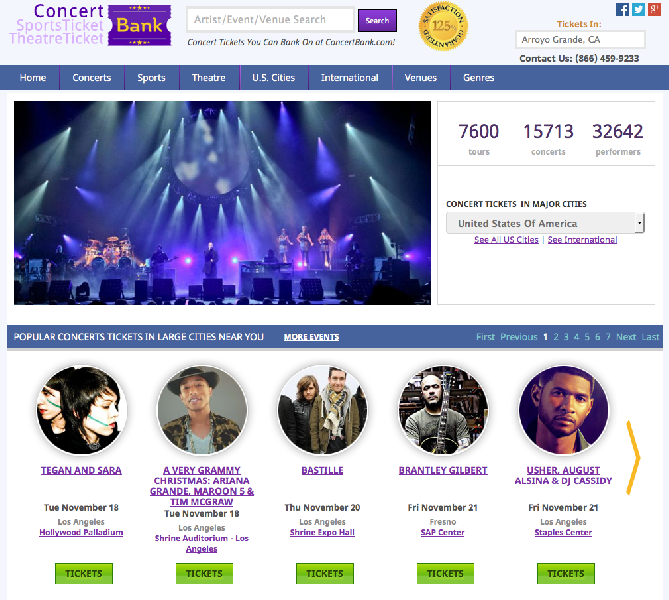 - November 18, 2014 /PressCable/ —
ARROYO GRANDE, CA Nov 18, 2014 Two of country music's biggest superstars are making big news, onstage and off, and a new concert ticket website is making waves in its own way. 
In the past few weeks, Taylor Swift and Garth Brooks both have released new albums, announced major concert tours and taken actions that have the potential to shake up the way the music industry sells music and compensates (or doesn't compensate) artists. 
Between the pre-sale announcement for Taylor Swift 1989 concert tickets and the first Garth Brooks concert tour (with wife Tricia Yearwood) and new album since 2001, that's a lot of buzz but the biggest buzz in the music industry isn't about their new music. It's about their potential to change the way music is being sold, and that's where they're right in line with international concert ticket website, ConcertBank. 
Last Monday, just a week after the announcement of Swift's new album, 1989, and its accompanying Taylor Swift concert tour, the 24-year-old singer pulled all of her back catalog of music off the streaming music service, Spotify. The move was nominally a protest over the paltry royalties Spotify pays music artists – a fraction of a cent per streaming play. 
In a similar move, Brooks, who has never allowed any download store to sell his music, is releasing his first new studio album in 13 years on his own new iTunes alternative, GhostTunes. GhostTunes went live Tuesday, November 18, with millions of song tracks from thousands of artists. The new service gives artists more control over how their music is packaged, pays them a higher percentage of the sales price than any other digital music service and allows them to bundle merchandise with their songs. 
ConcertBank, an independent concert ticket seller is also making inroads into the way music is sold to consumers. The online ticket center allows music fans to search and find concert tickets to all types of music by artist, venue, genre or city and provides them with easy tools to find exactly the tickets and the music they want at the price they want to pay. The site features rare and hard-to-find concert tickets in prices ranging from the cheapest concert seats to the most exciting luxury music concert packages, complete with backstage passes and after parties, as well as the chance to find last-minute tickets to even the most popular concert events. 
For music fans who have been at the mercy of big music distributors and concert promoters for years, ConcertBank presents a radical departure from the status quo. Coupled with the radical actions of Garth Brooks and Taylor Swift, it could be a sign that the times they really are a-changing for music.
Release ID: 68544