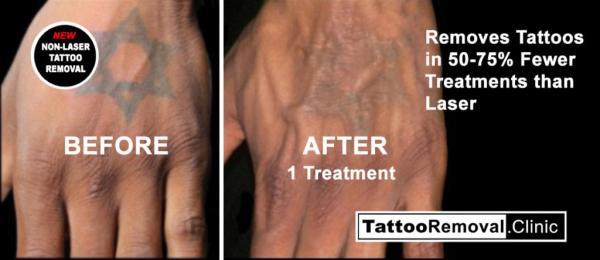 - July 1, 2020 /PressCable/ —
There is no shortage of people who have tattoos that they wish they could be done with forever in Toronto and the Greater Toronto Area. Tattoo Removal Clinic is ready to help clients make tattoo regret a thing of the past.
Getting a tattoo removed does not have to be a big challenge. Canada's leading choice for non-laser tattoo removal services at the Tattoo Removal Clinic has a shining reputation for exceeding client expectations using the latest and most effective non-laser tattoo removal methods. In exciting news, Tattoo Removal Clinic, who have offices in Toronto and Richmond Hill, recently celebrated the launch of its new business website, which showcases their valuable, life-enhancing treatments.
According to Tattoo Removal Clinic, laser tattoo removal, which is the most popular method of tattoo removal today, may not be the best option for many clients. Laser tattoo removal is very painful. Many clients believe tattoo removal is more painful than getting the tattoo. With laser, complications can occur, with an incidence of about 5%. Laser tattoo removal can cause hypopigmentation and hyperpigmentation, where the skin colour becomes lighter or darker after the treatment. This happens more often in darker skinned clients with tattoos.
Laser tattoo removal also takes many sessions to see results. The average tattoo takes about 10 laser treatments to get the job done. Complete disappearance is not always achieved even after performing so many laser sessions. With a waiting period of about 6 weeks to heal, the entire removal process could take one to two years. With so many treatments required, the cost of laser tattoo removal can add up to several thousand dollars as well.
When you have laser tattoo removal, the ink is not removed. When the laser beam heats up the ink, the ink breaks down into the body. Certain tattoo pigments contain metals, and these pigments can create toxic chemicals that end up in the lymph nodes and other organs.
Non-laser tattoo removal on the other hand, does not have some of these issues. Their treatments are a safer, less painful, all-natural alternatives to laser tattoo removal. First, their non-tattoo removal is completely safe for all skin types, light skin or dark. The treatment can remove 50% to 75% more ink just after the first session compared to laser. Their non-laser methods are superior to any other laser treatment, as they are all natural, meaning no more acids and other potentially harmful and hazardous substances. Other key benefits of Tattoo Removal Clinic's methods include the ability to remove ALL tattoo ink colours, being harsh and dangerous chemical free, and fewer tattoo removal treatments required to have clear skin. Fewer treatments mean less money to remove your tattoo.
Tattoo Removal Clinic also removes SMP Scalp Micropigmentation. As experts in scalp micropigmentation, they have helped fixed blotched SMP procedures as well.
The new website from the tattoo removal experts highlighted a large gallery of before and after
photos so potential clients can see what can be accomplished through the treatments. Most people are more than impressed with seeing these results. Feedback from past clients has been positive across the board.
Helen S., from Toronto, recently said in a five-star review, "I had a tattoo from high school that was a complete embarrassment. I am so happy it is gone now, thanks to Tattoo Removal Clinic, and I can enjoy the beach again without being self-conscious. Full recommended!"
For more information or to make an appointment be sure to visit https://www.tattooremoval.clinic. Other services offered can been seen at https://laserwellness.ca and https://hairlossclinic.ca.
Release ID: 88966632