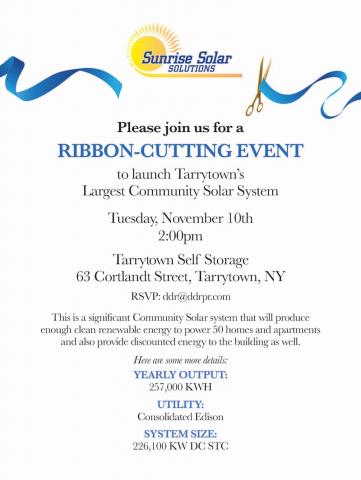 - November 10, 2020 /PressCable/ —
Tarrytown Self Storage NY has announced its upcoming event to launch the new 257,000 KWH community wide Solar system. The event is scheduled to be held on Tuesday, November 10th at 2 PM local time.
More information is available at https://www.tarrytownselfstorage.com/solar-westchester
The ribbon-cutting event will formally mark the launch of Tarrytown's largest community wide solar system. The project is expected to provide clean, renewable energy to power 50 homes and apartments and a discounted energy to the Tarrytown Self Storage facility.
Tarrytown Self Storage recently announced the upcoming ribbon-cutting event to commission its community wide solar power project. The solar power project, which has a yearly output of 257,000 KWH is Tarrytown's largest renewable energy source.
The project's system size is rated 226, 100 KW DC STC, which is an optimal DC/AC Inverter ratio required to ensure efficient energy production and to minimize energy loss. The energy produced by the solar project is fed into the Consolidated Edison network for onward distribution to final consumers.
Tarrytown Self Storage is an ultra-modern, industry standard-setting self-storage facility with more than 40 storage space configurations. The three-story facility includes world-class cedar closet units, energy efficient motion sensor lighting and cutting-edge climate control throughout the facility.
The self-storage company provides secure storage spaces to its customers, including families and businesses in Tarrytown and the surrounding areas in Westchester County NY.
The company is staffed with highly-trained consultants who can help clients find the perfect storage units that meet their unique needs. Customers can choose to schedule an in-person facility tour or have the consultants find storage size units for them without visiting the facility.
Tarrytown Self Storage is part of the family-owned Westchester Self Storage company which operates over 17 facilities under various brand names in New York. Westchester Self Storage has been in the self-storage business for 30 years and is committed to providing secure and affordable self-storage solutions to its residential and commercial customers.
Interested parties can learn more by visiting the website mentioned above.
Release ID: 88984783