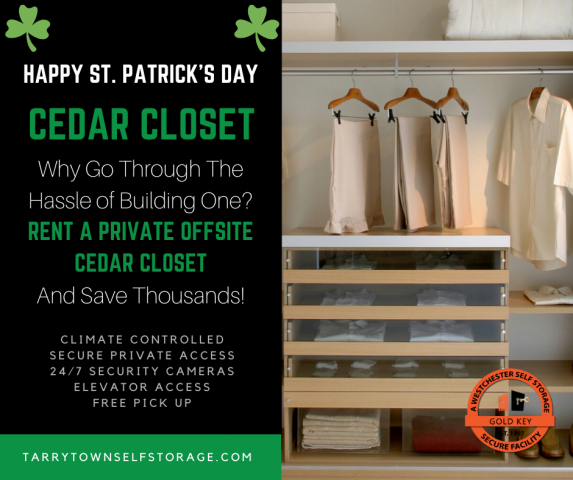 - October 7, 2020 /NewsNetwork/ —
New York-based company Tarrytown Self Storage launches their cedar closet rooms for people looking for a climate-controlled facility and storage space where they can safely keep their delicate items.
Additional details can be found on their website: https://tarrytownselfstorage.com
The newly launched storage options are aimed at providing ample protection for clients' belongings that are prone to deteriorating or sustaining damage because of temperature fluctuations and humidity. The cedar closets are ideal for items such as wine, antiques, books, documents, shoes, and offseason wardrobe.
The cedar construction of Tarrytown Self Storage's special closets offer additional benefits. Cedar has a natural ability to repel insects because of its strong smell. Clients need not worry about how their items would smell, however, because the wood also gives off a natural aromatic scent that most people find pleasant. Since it acts as a natural dehumidifier, cedar helps prevent mold and mildew too.
The self storage company understands that owning a cedar closet remains a dream for many homeowners, especially since building one can cost over $5,000, not to mention that the design and construction process can take weeks. It is for this reason that the company has made their cedar closets, currently on special offer for St. Patrick's Day, readily available at reasonable prices.
Now on their third decade in business, Tarrytown Self Storage is one of the fastest growing self-storage companies in New York. With locations throughout Westchester County, the company has most recently opened a three-story facility with industry-leading features such as their cedar closet units, as well as facility-wide climate control and energy-efficient motion sensor lighting
Tarrytown Self Storage is located at 63 Cortland St, Tarrytown, NY. Those who are interested in the company's cedar closets and other self-storage solutions may access more information through the website stated above. Alternatively, they may visit the company's Google page at: https://g.page/tarrytownselfstorage?gm
Release ID: 88974437