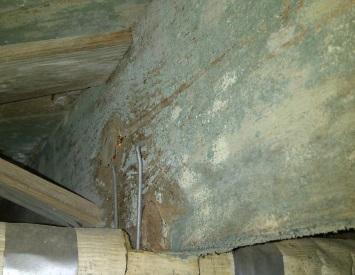 - July 26, 2020 /PressCable/ —
TampaBayMold.net has announced the availability of its crawl space mold remediation services. The company specializes in the cleanup and removal of mold in residential and commercial properties in Tampa FL.
Details can be found at https://www.tampabaymold.net
The newly announced mold remediation and its corresponding mold removal, which can differ for each project, entail removing mold and mold spores from properties. The procedures usually involve four steps: containment of the mold, extermination of the mold, removal of the dead mold, and prevention of new mold growth.
Containment of the working area is done to prevent the mold from spreading into uncontaminated areas and extermination comprises disinfecting and antimicrobial misting. In the removal of the dead mold, the company's team would usually clean and treat structural elements. The team would then work on applying a patented polymer/silver ion sealer which works to protect the surfaces of the cleaned out area and prevents the growth of new mold.
TampaBayMold.net also provides mold inspection and testing services. This comes in light of the fact that mold is becoming a bigger issue for home and business owners everywhere in the world today, along with the fact that many people have mold-related allergies and health issues.
When contracted for such, the company does a comprehensive mold inspection which can range from a limited area mold testing to a whole house assessment. A spokesperson for the company noted that most of TampaBayMold.net's inspections are non-invasive.
Understanding that communication with customers is critical, the team would begin all of their inspections with an interview. This is followed by a walk-through so the problem areas on the property can be identified. The team is also sure to answer any questions clients may have while educating them on mold growth and what future prevention measures can be taken.
More on this can be found at http://moldremediation.tampabaymold.net/2017/06/24/mold-inspection-tampa-fl-how-to-avert-mold-problems-when-buying-a-new-home.
Among the inspections offered by TampaBayMold.net are post-remediation verification mold inspections, and mold assessments. The latter is done in small areas, entire houses, and on commercial properties.
During the inspection process, visual inspection, humidity and temperature readings, moisture meter readings, and taking of air samples and surface samples are conducted. If applicable, infrared/thermal imaging scans are carried out, and clients also receive a detailed report of the inspection. This report includes digital photos and certified laboratory results.
A visual representation of what the company does can be found at https://www.youtube.com/watch?v=2pCvYvPqNts.
The company advises that mold testing should be done after any water intrusion or flooding, after the discovery of unexplained stains on walls, ceilings and/or furniture, and if suspected mold is found during a home or building inspection.
Interested parties can click on the link to find out more: mold remediation Tampa
Release ID: 88970052