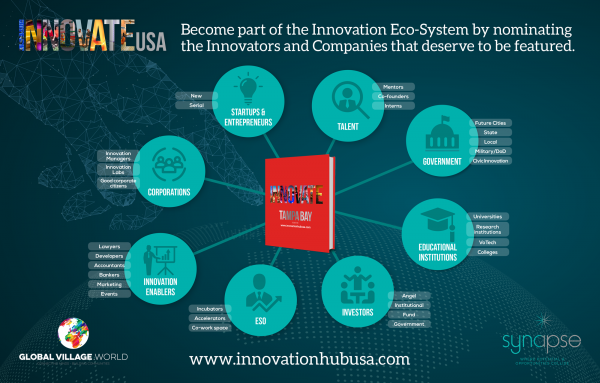 - March 25, 2018 /PressCable/ —
The second edition of Innovate Tampa Bay, a 350 page in depth study of the Tampa Bay innovation ecosystem, has been announced. It will be launched at the Synapse Innovation Summit, and nominations and applications will be open at the Innovate Tampa Bay Booth.
More information can be found at: https://innovationhubusa.com
Innovate Tampa Bay volume one was a huge success, with 180 innovators and business icons sharing their vision and success stories on the pages of timeless history, leaving a legacy and a blueprint for cities to build on.
5,000 copies of the book are being distributed all around the country and the world, putting Tampa Bay firmly on the innovation world map. The launch party will be one of the highlights of the year, with 400 of the most important people in the Tampa Bay area showing up to celebrate and network the night away.
The Innovate publishing series is a 350 page in depth study and AR video series that showcases the people, companies, products and services that are at the cutting edge of innovation within the city.
The goal of the book and the platform is to ensure that the best innovations and innovation enablers connect and succeed.
The publications are divided into three types of contributors. These include the experts, thought leaders and academics; the innovations themselves, entrepreneurs and startups; and the supporters, founders and enablers of innovation for the ecosystem.
Innovate USA states: "We welcome business leaders and decision-makers who can affect change in their industries as well as open-minded folk who want to know what and who there is to know in the ecosystems and play an active role in its growth and development."
Attendees at the 2018 Synapse Innovation Summit will be able to meet investors, find top talent, and experience the cutting edge of business and technology.
Full details of the event and the book can be found on the URL above.
Release ID: 319811