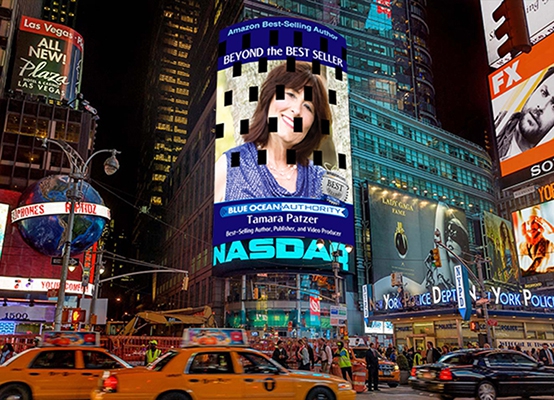 - November 28, 2017 /NewsNetwork/ —
Renowned speaker, Tamara "Tami" Patzer, and innovative creator of the Daily SuccessTM Media Network and Blue Ocean Authority Publishing, will be appearing at NASDAQ and Harvard Club of New York on December 4. The topic will be "Beyond the Best Seller".
More information can be found at: http://tamipatzer.com.
Tami recently shared the stage with New York bestselling author Suzanne Somers at Business Expert Forum at Harvard Faculty Club. She was a member of a Pulitzer Prize nominated news team, and has interviewed hundreds of entrepreneurs, authors and professionals in a range of fields.
In 2017, she helped more than 100 women become international bestselling authors. These women have taken their book beyond the bestseller to grow their business and empower other women around the world.
Tami was a featured speaker at Business Expert Forum at Harvard Faculty Club, and also spoke at Women Prosperity Network's Unconference and are LeadHerShip Conference in Havana, Cuba, and Cozumel, Mexico.
As an international author and speaker, Tami Patzer has spoken at venues all around the country. She is a certified Women Prosperity Network speaker, with thought provoking actionable programs and workshops for authors, speakers, entrepreneurs and professionals around the US.
In addition to this, she is an educator for Forbes and an adjunct professor at Florida Golf Coast University. She taught mass communications and social media courses at University of South Florida, State College of Florida, and FGCU. She has helped clients use her leverage programs for Television Authority Marketing Implementation.
Her speeches and presentations have included talks on marketing tools, social media presentations, and more. She will be speaking at NASDAQ in December about her Beyond the Bestseller programs, so more women can take that next step to develop their brand.
Tami is a Pulitzer Prize nominated journalist, and has a master's degree in Mass Communications and Instructional Technology. She created Florida Gulf Coast University's Social Media Certification program.
A recent mentee said: "Thanks to Tamara Patzer's expert mentorship, coaching and guidance, I learned how to organize and promote my first ever Video Marketing Day."
Full details can be found on the URL above.
Release ID: 269659