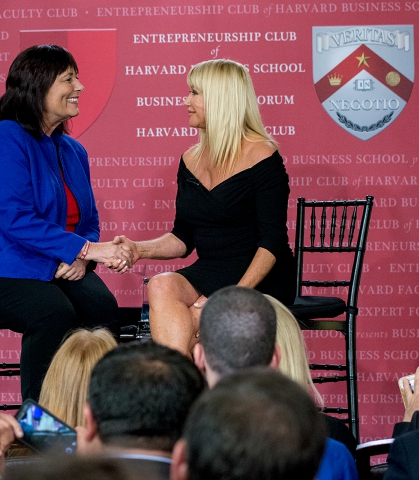 - August 8, 2017 /PressCable/ —
Daily Success Network Creator Tamara "Tami" Patzer spoke at the Entrepreneurship Student Club at Harvard Business School's Business Expert Forum recently and shared the stage with Best-Sellling Author Suzanne Somers, who recently released "Tox-Sick to Not Sick. "It was an honor to meet Suzanne Somers and to speak at Entrepreneurship Student Club at Harvard Business School's Business Expert Forum," said Patzer, who was honored as the Author Marketer of 2017 at the Business Expert Forum by host Clint Arthur. Patzer earned the Author Marketer award since she helped hundreds of authors, business professionals and experts to take their authorship to the next level with innovative marketing programs.
"It is exciting to help others become the only choice in the sea of possibilities. It is Blue Ocean Authority," she said.
"I call it winning the Race. Reach, Authority, Celebrity, Credibility, and Expert Status,"
Prior to attending the Business Expert Forum at Harvard Faculty Club, Patzer completed Women Prosperity Network's Business of Speaking, not once, but four times. She is now a Quadruple-Certified Business Speaker. "The Business of Speaking is an awesome opportunity to work on messaging and programs for speaking from the stage," said Patzer.
Listen to Women Innovators Radio here.
Patzer is currently on a national media tour speaking about social media and Women Innovators. She recently shared the story of the Women Innovators "Big Message, Big Mission" international No. 1 best-selling book series at Guerrilla Marketing Global Summit, the California Women's Conference, and on ABC, NBC, CW and Fox in Arizona, New Mexico, and Louisana. She is scheduled to appear in San Diego, Calif., and Washington, D.C. , Since January, Patzer has helped 64 women become best-selling authors in the Women Innovators: Leaders, Makers and Givers book series and radio show. Patzer recently toured Florida with stops in Melbourne, Fort Lauderdale, Orlando, and Daytona Shores.
Release ID: 226132