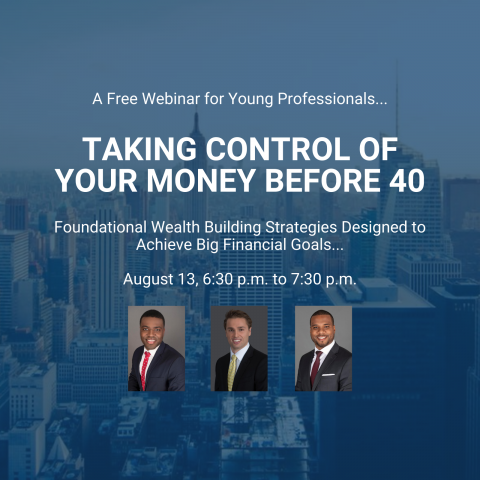 - August 11, 2020 /PressCable/ —
The burden of college debt, high real estate prices, and a volatile economy have left many young Americans discouraged at their prospects for a bright financial future. How can young professionals build wealth amidst so much uncertainty? Financial planners at Reby Advisors plan to provide answers at an online event titled "Taking Control of Your Money Before 40" on Thursday, August 13, at 6:30 p.m.
Devone McLeod, Financial Planner at Reby Advisors, explained why the firm decided to host the webinar:
"A 2017 T. Rowe Price report found that 69% of parents do not feel comfortable discussing money issues with their children. Moreover, high schools and colleges rarely teach personal finance. As a result, young professionals often learn how to manage money through trial and error, or from information provided by the financial media, which may have conflicts of interest."
McLeod warns of the risk of waiting too long to start planning for the future, "Many Americans do not get the advice they need to be financially successful until after they have accumulated significant assets. By then, many costly mistakes have been made and lucrative opportunities have been missed."
According to the event website, attendees will learn foundational wealth building strategies designed to achieve big financial goals. Topics to be discussed during the 60-minute webinar include:
How should young professionals invest in the stock market: individual stocks, mutual funds, or ETFs?
Is it wise to build wealth by investing in real estate beyond a primary residence?
What is the best way to protect a young family or financially prepare to start a new family?
What is the best way to manage student debt?
Doug Kuring, Financial Planner, and Antonio Gonzalez, Client Service Manager, will join McLeod as the webinar presenters. Anyone who wants to learn more about the topic is encouraged to attend. Dozens have already registered.
Interested parties can learn more and register at: https://events.rebyadvisors.com/money-under-40/
Release ID: 88972221