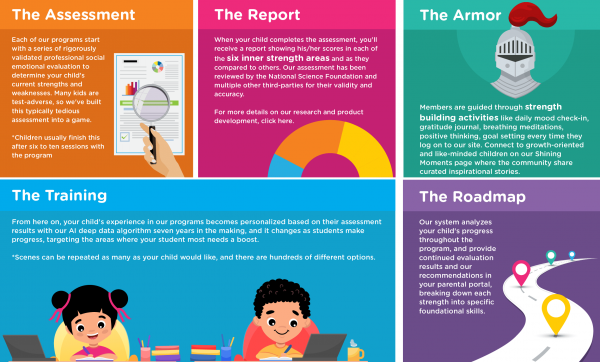 - August 3, 2021 /PressCable/ —
curaFUN announces the launch of their scientific behavior therapy programs to help build social skills and emotional resilience in Chinese children. The self-paced, interactive programs are available online and suitable for children, especially those with learning differences (gifted, ADHD, ASD) and emotional challenges.
For more information visit the website at https://www.curafun.com/strength-builders
With the new announcement, this non-profit organization enables differently-abled children to learn and manages social interactions and challenges better. According to existing statistics, learning differences are as prevalent among Chinese children as anywhere else in the world.
curaFUN explains that approximately 6.3% of Chinese children have ADHD and 1% have autism. Many more are considered twice-exceptional, which means that they are a combination of exceptionally skilled and learning challenged. These conditions affect between 5% and 9% of the Chinese population but are largely undetected and untreated.
In many parts of Asia, including Greater China, Taiwan, and Singapore, children with ADHD or Asperger's Syndrome lack adequate personalized intervention support and are often denied admission into schools at the optimal level and pace of learning.
The organization leads the way in making online behavioral content and therapy available in Chinese. The StrenthBuilder program uses the game medium to support and strengthen social-emotional learning. This program is accessible to the population, affordably priced, and private.
For registered members, this non-profit provides unlimited access to programs that evaluate, plan and improve various social, emotional, and performance skills. The expertise of speech and behavior therapists and child psychologists, among others, are included in the design of the programs.
Parents can use these programs for home sessions. This provides a medication-free approach for children with ADHD and other conditions.
Schools that use these programs have the advantage of detailed individual progress reports and a cost-effective method of differentiated learning. Counselors and therapists will find that the gamified structure improves cooperation, compliance, and consistent learning of cognitive and behavior therapies.
The curaFUN StrengthBuilder Zoo Academy focuses on the 4.5 to 7 year age group. It fosters new skill-building which will lead to better coping habits with starting and going to a new school, playing with friends, separation anxiety, and more.
The next level, Zoo U, extends up to 15 years of age. This program is funded by the US Department of Education and National Science Foundation and focuses on following complex instructions and avoiding distractions.
For more information, visit https://www.curafun.com/strength-builders or call +1-760-459-4286.
Release ID: 89039706