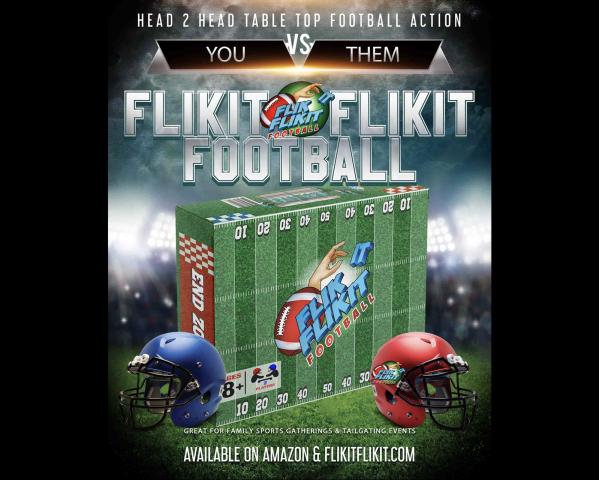 - July 12, 2021 /PressCable/ —
Mpire Entertainment announced that customers looking to buy their re-defined table Top Football Board Game Flikit Flikit Football is available on Amazon and www.flikitflikitfootball.com.
The Flikit Flikit Football Table Top Football Board Game release marks Mpire Entertainment's First product they have released in their product line. Everyone within the business was excited when the product launched, especially since those within Mpire Entertainment feel that "The demo response from youth and adults alike has proven it can bring hours and hours of fun at any/all gatherings. Seeing the intensity after all players get the hang of it is beyond amazing watching them try to out-score the opponent before the final buzzer.."
Edward Galloway, Owner/Creator of Flikit Flikit Football, and author of the screenplay "Wired" (also available on Amazon) when asked about the Table Top Football Board Game said:
"Whether home with the family, party atmosphere or tailgating, Flikit Flikit Football delivers the excitement of tabletop football to a whole new level. Taking turns with intense and calculated flicks from each player to land the football into the end zone and score as many touchdowns within the time limit. Once you start flicking, you won't want to stop. Perfect for gift giving to youth and adults alike."
Consumers active in the Board Game, Toys, Party Games, Tailgate Fun market will be interested to know Flikit Flikit Football was developed with Sports Fanatics, Football Players, Youth Athletes, Children, and Young Adults in mind.
For example, it delivers "A great alternative to video games and electronic devices". Edward Galloway said "This was important because this was imperative as part of the product to provide hours of time away from electronic devices. This will be great news because this is good for our customers because it allows more time spent with family and group/party gatherings minus the cell phone distractions."
Flikit Flikit Football also has simple-to-learn instructions. this was to ensure gameplay was simple and easy to get started with the action. Consumers should be pleased with this since simplicity is key when wanting to jump right into hours of gameplay excitement.
One final piece of information being released states that the new product is overall fun and exciting for a Table Top Football Board Game – Developers decided this was critical to the final product because it was essential to allow consumers a fun experience. Customers should enjoy this particularly, as it provides family and/or group fun at any gathering.
Those interested in learning more about the business or interested in purchasing can do so on the business website at: http://www.flikitflikitfootball.com or look up our gameplay action on YoutTube by simply searching FlikIt FlikIt Football.
Release ID: 89034783