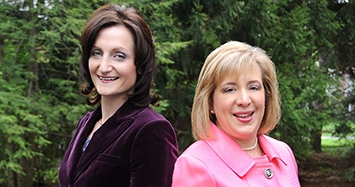 - January 13, 2016 /PressCable/ —
Albany, NY: Tabak & Kiosse, LLP is pleased to announce that Margaret C. Tabak, Esq. and Leyla A. Kiosse, Esq., completed a specialized educational program in professional divorce analysis from the Institute for Divorce Financial Analysts (IDFA) and are now Certified Divorce Financial Analysts (CDFAs).
With this certification, Tabak & Kiosse, LLP is able to more effectively advocate for their clients, bringing a comprehensive understanding of the financial aspects of divorce. This understanding is beneficial throughout the divorce process, allowing them to analyze the situation and provide informed advice on the financial implications that divorcing couples face.
Attorney Tabak and Attorney Kiosse, who combined have more than 35 years of family law experience, explain,
"A divorce often involves a myriad of issues beyond the mere dissolution of the marriage itself, such as child support, spousal support, and a division of assets and debts. There is no cookie-cutter solution. As CDFAs with expertise in matrimonial and family law, we are better prepared to understand the financial situation in question and the legal implications of the particular facts of each case so that our clients understand both the short and long-term financial impact of any settlement proposal or outcomes after trial."
Founded in 1993, IDFA is the leading national organization committed to promoting the use of financial professionals in matters of divorce and family law. Their certification provides specialized training to accounting, financial, and legal professionals on the various financial and tax implications of a divorce.
To achieve certification, the CDFA candidate must complete the four module course, sit for six hours of examination, and achieve a score of 70% or higher. The course modules cover over 500 pages of information and include two case studies to ensure the candidate understands how to apply the information learned in real-world situations. Once designated as a CDFA, the individual must also complete 15 hours of continuing education every two years to maintain the certification.
About Tabak & Kiosse, LLP: Tabak & Kiosse, LLP is a family and matrimonial law firm serving Albany, NY and the greater Capital District. While providing counsel in many areas, Tabak & Kiosse, LLP specialize in matters of divorce, custody, child support, separation, and pre- and post-nuptial agreements.
Release ID: 101050