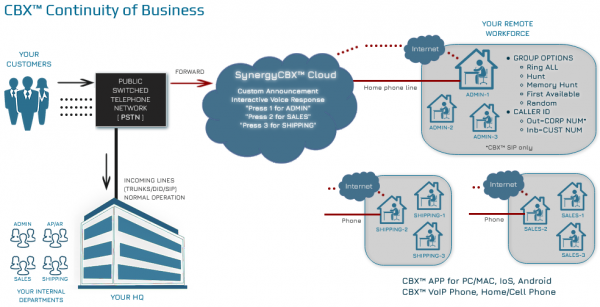 - April 10, 2020 /NewsNetwork/ —
Synergy Core LLC ("Synergy") today reflected on its initial release of SynergyCBX cloud based VoIP remote office setup service, which the company has been offering now for several years. The main aim was always to give small to midsize businesses in all industries the ability to run full office operations remotely by setting up a customized, cloud based VoIP telephone system with a customized IVR, in many cases within 24 hours. And by defying convention, this fast remote system setup for small business did so, with a difference.
Plans and pricing as well as other features and a detailed description of the service can be found on the company's website: https://www.synergycbx.com/
Larry Jones, CEO at Synergy, says: "This global pandemic has forced companies to transition to a remote workforce overnight. The very future of our economy relies on solutions that allow small to medium business to continue working and generating revenue versus the furlough or outright unemployment of workforce…"
The company wanted to try something new with the SynergyCBX remote office setup. Anyone familiar with large VoIP service providers will probably have noticed how these big players in the market always seemed to ignore the service needs of small and midsize business customers who require more one on one support and something more customized than a "cookie-cutter" solution. Synergy Core knew this was a problem because it makes it more difficult for any small business to then provide responsive, high quality service expected by it's customers."
So as a welcome breath of fresh air to the market, not only is the company able to set up small businesses with a custom, cloud based VoIP service in most cases within 24 hours of initially contacting them, the service comes with high quality, "white glove" customer support. Synergy chose to make this move because the large providers of cloud based VoIP were not very responsive to the needs and the flexibility required by small and medium sized businesses.
SynergyCBX will enable customers to support a geographically dispersed workforce engaged in all business operations including administration, sales, warehouse/fulfillment, shipping, accounting/finance, as well as other departments.
Statements from the company describe the SynergyCBX service as including such features as professionally scripted and recorded announcement files, unlimited call routing options, Time-of-Day and Time Zone Routing for a geographically dispersed workforce and customer base, and robust Interactive Voice Response (IVR) capabilities. According to Jones, "Rudimentary call-forwarding is simply not capable of maintaining business continuity for small business customers and employees…"
Synergy wants their customers to feel confident that they'll be able to have fully functional teleworking operations in place to respond to their customers when using SynergyCBX cloud based VoIP remote office setup.
Synergy has been in business for for ten years. Since 2010 it has always aimed to provide responsive, high quality service to small and midsize businesses who were often ignored by larger cloud based VoIP service providers.
SynergyCBX Cloud Based VoIP remote office setup is now available. The company emphasizes that it does not require a "long term" contract, however there is a 30 day minimum service requirement. To find out more, visit their website (https://www.synergycbx.com/).
Release ID: 88953120