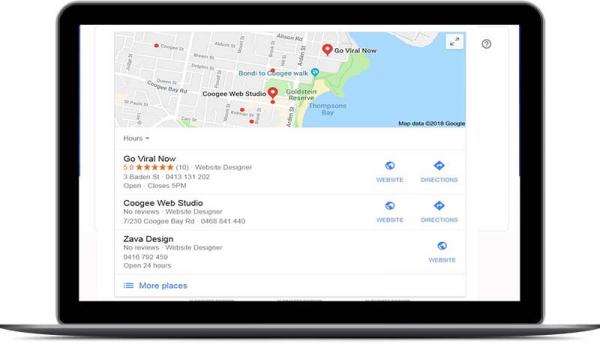 - May 19, 2018 /PressCable/ —
Sydney SEO and web design company, Go Viral Now, has announced the launch of the Google 3 Pack & Review Builder Bonus. The product has been out for over 6 months while testing and optimising every aspect of the package. This product provides a local business with a guaranteed ranking in the Google Local/Maps 3 Pack and is expected to shake things up. 6 months after launch, the facts are in – 100% of clients have achieved a top 3 spot in their local Google Places 3 Pack.
In the past, the SEO and local marketing industry has often been taken up by shady operators promising a lot but delivering very little. This product is a safe way to gain a lot of red hot traffic from Google without the worry of penalties or shady practices bringing down a business. The Managing Director at Go Viral Now, Tess Robinson, makes a point of saying "we knew this was a game changer for many small to medium sized businesses when we launched the Google 3 Pack & Review Builder Bonus".
Tess Robinson continues, "Where you'll likely always see our competitors doing the same old thing, we wanted to do something a bit outside the box and offer a guaranteed placement for our existing clients. Once we saw the incredible results, we decided to roll it out to the general public. While much of the competition continues to focus on building links and grey to black hat tactics (unless you have a LOT of money and time to spend on safe SEO strategies), this product offers a secure way to take advantage of top of the page rankings in Google. After the recent BrightLocal report on the effect of reviews on a business' bottom line, it became obvious that Google Local listings, with lots of 4/5 star reviews, was the place to be found for high quality leads and buyers. Ultimately, we knew it was going to be of huge benefit to our customers because small to medium sized local businesses can now take advantage of a huge boost in targeted website traffic, increased exposure and an easy way for quality leads and sales to connect. Having one of the top 3 spots in Google Local makes your business stand out. The reviews build trust in a brand. We actually hope others follow suit."
Go Viral Now was established in 2009. The business has been around for about 9 years. and it has always aimed to help small to medium sized local businesses bring in high quality leads and sales easily and without a huge amount of ongoing expense..
Currently, the closest thing to the "Google 3 Pack & Review Builder Bonus" other SEO's are offering is to setup and optimise a Google My Business listing. This product goes way beyond that as it includes a review builder system that sends only 4 and 5 star reviews public (on Google) and keeps 1 – 3 star reviews private. On top of this, the system has already been proven to work 100% of the time with existing clients by getting them into the top 3 spots in the Google Local Map pack. Even better, they stay there. The Google 3 Pack & Review Builder Bonus improved on the original product by packaging both reviews and 3 Pack placements together. This product is guaranteed to get a business into the top 3 through a strategic system that was developed by the company's experts.
Google 3 Pack & Review Builder Bonus is now available by visiting the company website to connect with a customer service representative. To find out more, the place to visit is https://goviralnow.net/google-3-pack-results-explode-conversions/
For further information about Go Viral Now, this can be discovered at https://www.GoViralNow.net
Release ID: 347091