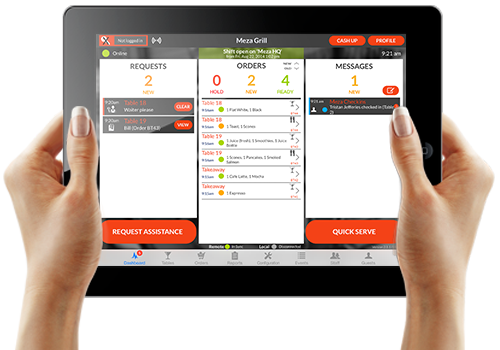 - September 21, 2015 /PressCable/ —
Star, is a powerhouse in the hardware industry, supplying businesses around the world with some of the most trusted printers available. Star were so impressed with Meza POS system they selected them to be a part of their Global Assistance Program (GAP), which promotes the most trusted software providers across their massive distributor network.
Meza, founded in Sydney, Australia in 2012, was the brainchild of restaurant owner Barry Schutte. Not satisfied with the solutions offered by other POS systems Schutte together with the help of software developer Nick Du Preez, created Meza, knowing that new technology would enable them to offer something that was more functional and affordable. The iPad app was well received by restaurant operators across Australia and began to evolve even further as one of the only dedicated hospitality POS apps in the world. Three years later, Meza is now available in the USA, U.K. and South Africa.
For details on Meza's full functionality please click here
Thanks to an open API (Application Programming Interface), Meza has been able to link with accounting giant Xero as well as rewards programs and countless others. According Tristan Jefferies, Meza's BDM "Our model is a little different, we prefer to work closely with our clients to form a relationship which means we can give them exactly what their business needs. Meza started out because we weren't satisfied with the solutions offered by existing suppliers; they were too complicated, difficult to use, incredibly expensive, they locked users into long term contracts, and there were fees additional terminals".
Meza's holistic approach to business has paid dividends, giving them a loyal client base and enabling them to create features that would not otherwise have been created. Remote management is Barry's favourite, as it enables the owner or manager to see venue activities in real-time from anywhere in the world. "We want to give the power back to the owners and managers by giving them more control of the data and information". Tristan Jefferies is a big fan of the Meza VIP app, a remote ordering app available for customers to download free from the AppStore, "it allows customers control of their experience by ordering and even calling a waiter from their phone". Unlike other remote ordering services that charge per transaction and keep the customer data for themselves, Meza's VIP is free to both patrons and venue owners, and the data stays in with the venue in Meza's built-in CRM system. Innovations like this have earned Meza a reputation as the Rebels of the industry.
Release ID: 91765