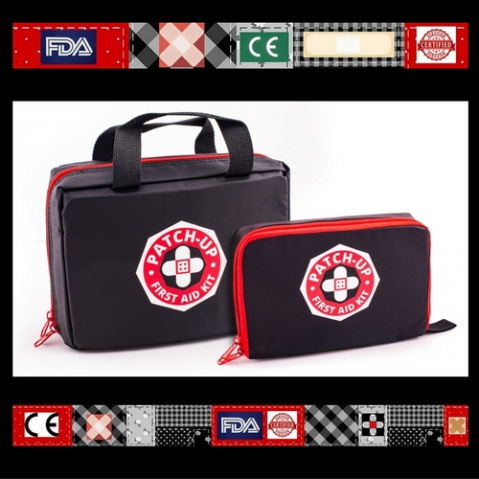 - February 22, 2017 /PressCable/ —
Patch Up Products, popular online first aid equipment suppliers, have released a Refill Kit for their Patch-Up First Aid Kit. The original Patch-Up First Aid Kit contains everything needed to perform first aid for the family, survival and outdoors and is ideal for the car, home, sports and adventuring enthusiasts.
For more information please visit: http://www.patchupkit.com/refill-kit
The Patch-Up Refill Kit contains 180 pieces with 32 unique items that are ideal to replace all of the disposable items in the Patch-Up or any other first aid kit. This includes ice packs, an emergency blanket, all sizes of adhesive bandages, gauze pads and rolls, tape, alcohol and burn cream packets, gloves, face masks and more, to insure no first aid kit will ever be without vital first aid items when needed. It also gives the customer assurance that only the best medical grade supplies will be stored in their kits.
The full Patch Up First Aid Kit contains 270 pieces including an instant ice pack, emergency blanket, a tourniquet, gloves, arm sling and a CPR mask. Alongside the usual bandages and alcohol wipes there are also first aid accessories such as finger splints, eye patches, tweezers, thermometers and scissors and more. This comprehensive kit means almost any first aid situation is easily catered for until further medical help can be accessed.
Each First Aid Kit has enough equipment to care for medium sized groups and all 270 pieces are manufactured in FDA approved facility providing hospital grade supplies. The supplies come stored in a heavy duty water and stain resistant nylon bag. The bag folds out to 36 inches and the items are contained in neatly organized zippered see through pockets for easy access. The Refill also comes in a sturdy zippered water-resistant bag that is easy to carry separately or to re-stock any current first aid kit.
Both of the First Aid and Refill Kits are ideal for survival and family use and can be stored at home, in the car or sports bag and perfect to take on camping, boating and other outdoor trips. The Patch- Up First Aid Kit and the Patch-Up Refill Kit are available exclusively on Amazon.
Those wishing to find out more about the newly released Patch-Up Refill Kit can visit the website on the link provided above, or by visiting http://www.patchupkit.com
Release ID: 171618