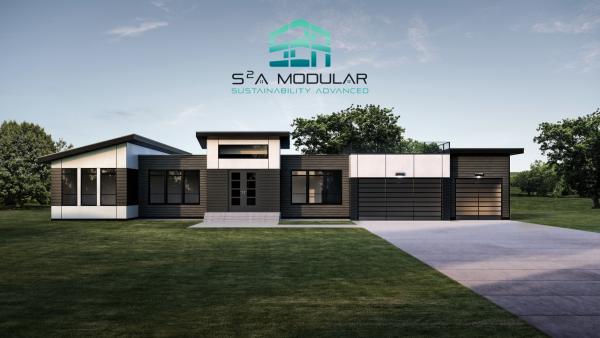 - November 12, 2020 /PressCable/ —
PALO ALTO, Calif – S2A Modular – California-based creator of the first electrically self-sustaining, custom and smart-connected "GreenLux" luxury residences and commercial buildings, has experienced a sharp increase in residential and commercial orders for modular structures indicating an industry-wide increasing demand in modular construction over other types of factory-based construction methods.
Over the past two years, S2A Modular has emerged as an industry leader in advanced modular design that utilizes the latest technology in home modular building to not only streamline the overall construction process, but also implement organic, green products to achieve high-levels of efficiency and sustainability. When these technologies are applied to S2A Modular's traditional and contemporary home designs with a wide variety of customization options, it's clear why modular has become the choice of consumers and builders throughout the country.
Building homes and commercial structures in factories is not a new concept. It has been around for years, but only in the last few decades has it begun to become more mainstream. However, not all factory-built structures are the same — manufactured, mobile and container homes have several limitations in design, scale, efficiency and sustainability.
Manufactured Homes
While affordable, these are generally very simple, rectangular structures that are designed like a large mobile home. Most homes are built in two halves in a factory on steel frames which are permanently attached to the home for transport. The designs have limited customization options and because of their shape, most designs have simple rectangular rooms with and basic floor plans. Furthermore, according to an article by SFGate, manufactured homes often lack things found in site built and modular homes like vented attics that greatly reduce HVAC efficiencies, and have low-quality subfloor construction that can sag over time.
Mobile Homes
Mobile homes, which are another type of manufactured home, can be great for homebuyers with tight budgets who might not need much space. Sold as a single-width trailer or "doublewide" that is joined in the middle, one key difference is that because they are not placed on a permanent foundation, they are considered personal property instead of real property. Financing a mobile home usually requires a "chattel loan" loan which can be difficult to qualify for, and is very different from a traditional mortgage. Finally, mobile and manufactured homes are only built to meet Housing and Urban Development (HUD) standards, not true building codes like real estate.
Container Homes
One of the latest trends in residential construction is converting old shipping containers into homes. Containers were used to build extremely small "tiny homes" which highlighted creative use of space and simplified living. Now, architects around the world are getting more creative and building large homes using several containers. While a clever idea, building homes out of recycled shipping containers has certain drawbacks. They are not ecologically friendly, there can be potential issues with structural integrity, and potential exposure to harmful chemicals that were used to treat containers for rust and corrosion. Obtaining building permits for container homes can also present challenges in several states due to the unique and somewhat unproven style of construction.
Modular Homes
Modular construction is far superior and in an entirely different category than all other styles of construction. California tech company, S2A Modular, has taken the best concepts in construction to create an entirely new category of luxury, sustainability and efficiency. Designed and engineered from the ground up, S2A Modular's homes and commercial buildings are more efficient, sustainable than any other homes in the world. The company's properties can also achieve net zero energy independence with no reliance on an energy grid due to extremely efficient FreeVolt graphene solar panels and a home energy storage system.
Other factors that elevate modular construction are cost efficiencies, speed of construction, reduced waste and increased quality due the climate-controlled environment which protects workers and materials from bad weather, theft and vandalism. Several modules can be built simultaneously to allow a home to be built in weeks, not months, and because the interiors, exteriors, cabinetry, HVAC, electrical and plumbing work is all completed in the factory, installation and site work is minimal and often completed quickly.
In the end, modern design, high-end materials, sustainable building materials, advanced smart home technologies and net zero energy efficiency help illustrate the advantages of S2A Modular and modular construction overall.
For more information on S2A Modular homes and commercial structures, visit https://www.s2amodular.com/contact
Release ID: 88985401