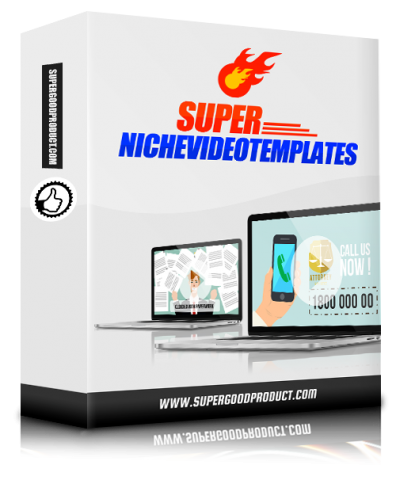 - June 18, 2017 /PressCable/ —
SuperGoodProduct recently launched Super Niche Video Template Kits, a collection of 50 local niche videos in different categories. Each video is paired with a professional voiceover and complimentary images and scenes.
For more information on the new kit, visit http://letsgolook.at/SuperNicheVideoTemplatesKit.com.
Super Niche Video Templates features a library of video templates that are fully customizable, allowing the user to edit every aspect of the video including text layer, background color, and other elements.
The new package comes with a bundle of video templates that cover many different offline niches targeted for local or small businesses. The categories include accounting, aged care, asphalt paving, attorney, book keeping, carpet cleaning, computer repair, bridal boutique, car dealership, day care, dermatologist, discjockey, driving school, funeral home, hair care, and more.
Additionally, each video is designed with high quality vector clip arts, cartoons, and image scenes.
The video templates are user-friendly and do not require previous experience with video software. Additionally, every video template is paired with studio quality voice-overs read by professional voice over artists and scripted by experienced copywriters.
Users receive both, a MP4 file and a PowerPoint source file, so that they can personally customize their files. The image quality will not be affected during file conversions. Every local niche video template is designed to convert smoothly in order to create strong call to action videos, regardless of the file or format.
Super Niche Video Templates also include music features. All music tracks are from creative common libraries that allow distribution without restriction to ensure that the music files are copyright friendly.
The kit will be available in special package offers and at discounted prices during its initial launch week.The Personal License lets users use the video templates to create promotional videos to be used solely for their own business or services.
The Extended Developer License lets users use the video templates to create marketing videos for their customer's project or for a local businesses. For example, users will be able to create videos and sell them to local business specifically.
For more information and pricing on the Super Niche Video Templates Kit bundle, visit http://muncheye.com/supergoodproduct-supernichevideotemplateskit.com.
Release ID: 208649