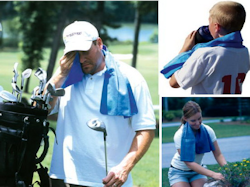 - October 25, 2016 /PressCable/ —
Magic Touches has released its Super Cooling Towel. The advanced hyper-absorbent cooling sports towel helps users stay cool in high temperatures. It is designed to be an effective cooling towel for golf, the gym and yoga, sports, gardening and outdoor activities.
More information on Magic Touches and the Super Cooling Towel is available on at: http://amazon.com/dp/B00EE79EZM.
Heat exhaustion occurs when someone is exposed to high temperatures for extended periods of time without hydration according to Health Research Funding. Injuries from heat occur when the body reaches 104 degrees Fahrenheit or higher.
High temperatures can cause cellular damage after about 30 minutes Health Research Funding reports. Of the deaths attributed to heat exhaustion, 31 percent are from exposure to excessive natural heat with heat stroke from exercise being one of the 3 leading causes of sudden death in sports activities.
Magic Touches' new Super Cooling Towel is designed to keep users cool for hours for all sports players, runners, walkers, hikers and campers. It's also useful for keeping cool in the garden, at work or just to cool down when the weather is warm.
The Super Cooling Towel is made of eco-friendly polyvinyl acetate (PVA), edible starch and polyester yarn. The highly absorbent fabric wicks sweat and when wet cools to about 30 degrees below the average body temperature.
To use the towel wearers soak it in water, wring it out and shake. It is ready to use or can be placed in a carrying container to use at any time. It retains water yet feels relatively dry to the touch so it doesn't soak clothes. It can keep a user cool for several hours depending on conditions and is reactivated by re-wetting, wringing it out and shaking it again.
Magic Touches says the towel makes the perfect gift for sports enthusiasts and active pursuits. It offers a demonstration of The Super Cooling Towel available on YouTube at: https://youtu.be/cdWG-fg9ecM.
More information on Magic Touches and The Super Cooling Towel is available at the website listed above.
Release ID: 140733