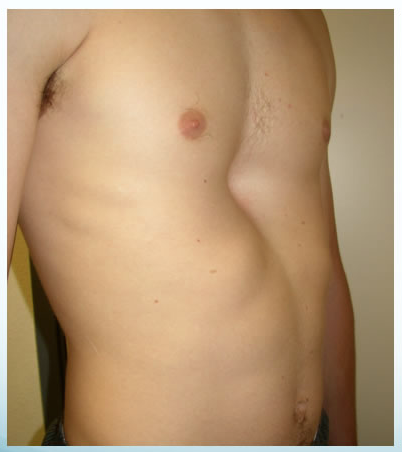 - January 29, 2022 /PressCable/ —
Sunken chest syndrome, or Pectus Excavatum, occurs in an estimated 1 in 300-400 births, with male predominance (male-to-female ratio of 4:1).
Even though kids are born with pectus excavatum, it may not be noticeable until early childhood, or more typically until the early teenage years. Pectus excavatum is when the sternum is sunken in and is hereditary, meaning it passes through families. Some symptoms a person can experience with pectus excavatum:
• problems tolerating exercise
• limitations with some kinds of physical activities
• tiredness
• chest pain
• a rapid heartbeat or heart palpitations
• frequent respiratory infections
• coughing or wheezing
• shortness of breath
• GI complaints
• heartburn
Sunken chest syndrome is sometimes overlooked as some cases might be quite mild, and to the naked eye it may only be a slight depression in the chest as opposed to a deep concave depression. Some kids don't know they have it until they start to participate in athletics, when they may experience shortness of breath, tiredness or decreased stamina compared to the other kids their age. If a parent or caretaker starts to notice this, and sees a depression in the child's chest, it's a good idea to have them checked out by their doctor (general practitioner, pediatrician, pediatric cardiologist).
Typically surgery, the Nuss Procedure in particular, has the best outcome for anyone young or old who experiences complications with pectus excavatum. Over the years, the procedure has been updated to modify and perfect techniques that are much less invasive for the patient with better results. The Nuss Procedure, named after its creator, Dr. Donald Nuss, uses stainless steel bars inserted into the chest cavity that pushes the chest wall out into proper alignment.
Think of it like a set of braces, in which the body adapts to the new placement as it grows, resetting it into the correct position. Once the body has adapted, the bars come out and the patient is able to resume activities, including sports. Industry preference in using the Nuss Procedure is because it's minimally invasive, and has the best outcome for anyone young or old who experiences symptoms related to pectus excavatum
What can a child expect if they elect to have their pectus excavatum corrected via surgery? The majority of patients who've elected to have their pectus excavatum corrected report they have a lot more energy. When the chest wall is sunken in, the heart and lungs have to work so hard to function against the pressure. When that pressure is alleviated, their heart can pump properly, their lungs can fill to full capacity, and their body can function at optimum levels. Sports become more fun to play and everyday activities aren't so taxing on their bodies. Their quality of life dramatically improves.
To find more resources about sunken chest syndrome, or pectus excavatum, Dr. Barry LoSasso, M.D., founder of The Center of Excellence – For Pectus, has done quite a few webinars covering a lot of topics ranging from what tests need to be done beforehand, post-surgery pain management, and traveling for the surgery. Parents can get more familiar with the syndrome and hear questions from other parents. Pectus.com is also a resource for parents to learn more about the condition, as well as keep up to date on industry news.
~~~
Dr. Barry E. LoSasso, M.D., received his undergraduate degree from Yale University. He attended medical school at the University of Florida and completed his fellowship in pediatric surgery at Babies Hospital, Columbia-Presbyterian Medical Center in 1984. Dr. LoSasso started his pediatric surgical career practicing at Kaiser Permanente Hospital in San Diego, California. From there he opened his private practice in 1987, The Center of Excellence – For Pectus – which continues today. In early 2017, Dr. LoSasso joined the Pediatric Surgical Associates, P.A. in Paramus, New Jersey. In addition, Dr. LoSasso served as the Director of Trauma Services at Rady Children's Hospital- San Diego from February 1998 until June of 2006, Chairman for the Safe Kid's Coalition in San Diego from 2001 until 2006, and Scientific Coordinator for the Fourteenth Annual Pediatric Critical Care Colloquium in San Diego in October 2002.
Release ID: 89062056