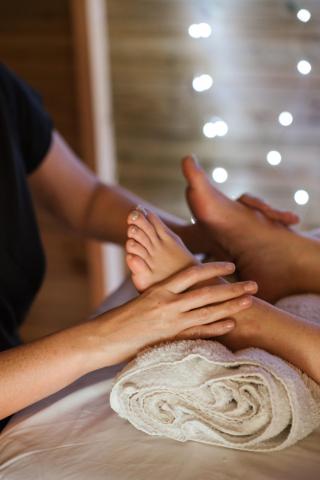 - September 2, 2021 /NewsNetwork/ —
A Better Body, massage therapists and esthetic treatment specialists based in Madison, WI, have launched updated services for clients in McFarland, Sun Prairie, Cottage Grove, Linden Park and West Madison. The launch offers exfoliating scrubs and Eco-Fin treatments for both hands and feet as part of the company's range of holistic therapies.
More details can be found here http://madisonbetterbody.massagetherapy.com
The newly updated services provide relief from the signs and symptoms of aging, aiming to rejuvenate and replenish tired skin and give clients a new lease of life.
While skin exfoliates naturally, this process slows down as the body ages. In younger people, skin replenishes around every 25 days. After the age of 30, dead skin builds at a faster rate, along with a reduction in natural pigmentation. Both scrubs and Eco-Fin treatments support the body's natural renewal processes.
Clients booking the exfoliating foot therapy can enjoy the feeling of warm towels being wrapped over their feet. A sugar-based scrub assists the shedding of redundant skin cells before a moisturizing cream is applied.
Eco-Fin is an all-natural, petroleum-free alternative to paraffin. It blends palm, jojoba, soy and coconut oils with shea butter, essential oils and Vitamin E. The treatment is administered via wearable hand mitts or booties, ensuring the hands and feet absorb the oils. Clients are then given a massage to further enhance absorption.
In addition to their skin care services, A Better Body also provide a comprehensive range of massage therapies including Swedish, deep tissue, hot stone, and myofascial treatments.
Founded in 2012 by licensed massage therapist and certified health coach Kaitlin Rohowetz, A Better Body's team of expert practitioners are committed to giving clients relief from pain and stress through natural treatment programs.
Kaitlin says, "Whether your goal is to reverse years of wear and tear, maintain a healthy functioning body, or to get some advice on where to begin on your journey to wellness, we are here to help."
With the launch of their updated exfoliation and eco-fin treatments, A Better Body continue to make natural skin care and holistic wellness a reality for clients throughout the Madison, WI area.
For more information, please visit http://madisonbetterbody.massagetherapy.com
Release ID: 89044084