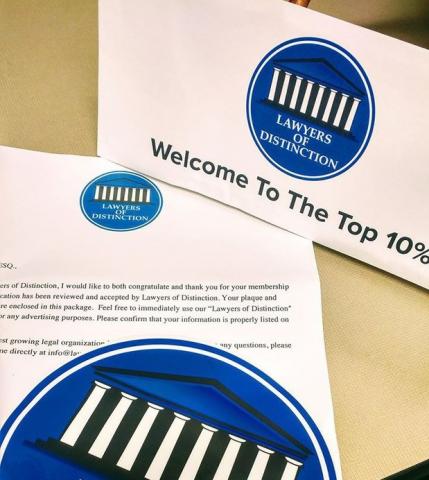 - September 18, 2018 /PressCable/ —
Suffolk County Family Divorce & Law attorney, Todd Zimmer of Zimmer, Mathiesen & Associates in Long Island, NY has been recognized with the prestigious title of "Lawyer of Distinction". Lawyers of Distinction recognize excellence in lawyers and how they practice law based on an extensive vetting process. Todd Zimmer was vetted through this process of selection and chosen to be a Lawyer of Distinction.
Lawyers of Distinction follows a tedious and extensive process of approval. Candidates must be nominated and selected. After the selection process, a selection committee begins the vetting process and reviews the candidate to ensure they qualify. Lawyers of Distinction confirms no more than 10 percent of lawyers in each state.
Todd Zimmer of Zimmer, Mathiesen and Associates, located in Suffolk County has been confirmed as one of those 10 percent lawyers in New York recognized for his outstanding knowledge of family and divorce law. Mr. Zimmer has been awarded the title of Lawyer of Distinction for his experience and knowledge of family law. He has also been recognized for the superb and professional customer relations and relations he has established with his clients
Mr. Zimmer takes on every case and client on an individual basis, making each and every one of them feel important and unique. His level of expertise in family law is unparalleled and worthy of recognition. Mr. Zimmer has been practicing family law for over 25 years in Suffolk County, NY. He is the founding partner of Zimmer, Mathiesen & Associates. Mr. Zimmer focuses on divorce and family law.
Mr. Zimmer was also nominated by various former clients as a lawyer of distinction. He was nominated as "Best Divorce Attorney" of Suffolk County for four years in a row by The Best Of Long Island. "Going through a divorce can be a scary and daunting process. I am so grateful that I had Mr. Todd Zimmer on my side. He made me feel like I was one of his most important clients, and always had my best interest in mind when he defended my case. I am very grateful to Mr. Zimmer for all he did for me and my family" Joan H.
Mr. Todd J. Zimmer located in Suffolk County, prides himself in being able to represent each client to the best of his ability, utilizing all the experience and knowledge of understanding the law that he has acquired in his over 25 years of experience. Being recognized as Lawyer of Distinction is a prestigious title only reserved for the top 10 percent attorneys who show good ethics, client satisfaction, and professional distinction among their peers.
Release ID: 408736