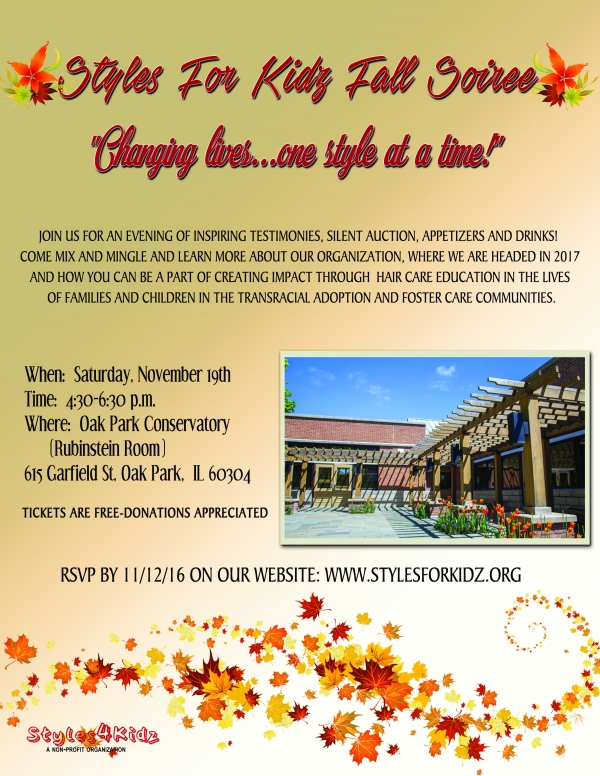 - October 29, 2016 /PressCable/ —
Join Styles for Kidz from 4:30-6:30 on Saturday November 19th for their Fall Soiree, held at the Oak Park Conservatory (615 Garfield Street, Oak Park, Illinois). Enjoy entertainment and appetizers while learning ways to support children in transracial adoptive homes and foster care communities.
Styles for Kidz offers hair care instruction and services to African American children living in transracial adoptive or foster homes.
"The State of Illinois requires transracial adoptive families to pursue hair care education prior to adoption of African American children," says Tamekia Swint, founder and executive director of Styles for Kidz. "Our organization brings quality hair care education and services to children and their families at no-or low-cost. These services facilitate transracial adoptions and eases the transition for new adoptive or foster parents who need help learning how to properly care for the children in their care."
Styles for Kidz works with individual families in the Chicagoland area, providing everything from hair care instruction, hair care services and referrals to stylists at no cost. The nonprofit organization also instructs and educates through low-cost workshops at adoption agencies and provides instruction and references to stylists for transracial parents across the country.
The Fall Soiree is a chance to support this life-changing organization, empowering the nonprofit to expand its influence to more transracial families. "It's going to be a festive event," says Swint. "It's an opportunity to hear testimonies, learn more about plans for the expansion of workshop and group home services, and a chance to visit with supporters and friends."
"Tamekia and Styles For Kidz have been a lifesaver for our family," said Rosalinda Christmon, transracial adoptive mother of an African-American girl who utilizes Styles For Kidz resources and hair care advice. "Tamekia and the Styles for Kidz staff have worked with me and my husband to ensure that we are doing the best we can to care for her hair. But it is not just about the hair; proper hair care bolsters self-esteem and puts a smile on a child's face!"
Come support Styles for Kidz on November 19th or visit the website at http://stylesforkidz.org to learn how to get involved.
Release ID: 142142